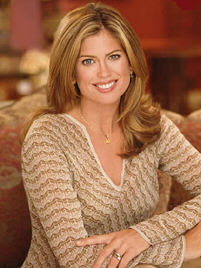 for families, especially busy moms.
Westlake Village, CA (PRWEB) April 25, 2007
Last month, Kathy Ireland added yet another recognition to her long list of achievements when she was named the Furniture Industry's first "Manufacturer of the Year." The basis of the award was threefold: 1) It recognized Ireland's outstanding furniture sales success (her corporation, Kathy Ireland Worldwide, grosses $1.5 billion in sales annually); 2) It lauded her philanthropic efforts in general; and 3) It applauded her launch of the HELP1UP program, which aims to donate free furniture to over 100,000 needy families each year. It's these charitable endeavors that renders Home-and-Bedroom.com so proud to be associated with the Kathy Ireland name. Bedroom furniture seekers can check out one of the Web's largest selection of Kathy Ireland traditional beds, modern beds, and bedroom sets online at Home-and-Bedroom.com so that their home furniture purchases will help to fund some wonderful causes.
When Kathy Ireland hung up her supermodel hat to marry her ER doctor husband, Greg Olsen, and raise her children, her focus shifted from fashion icon to family role model. Today, her business, Kathy Ireland Worldwide, offers home and bedroom furniture, fashion, outdoor, family, entertaining and quilting solutions "for families, especially busy moms." Manufactured through the Standard Furniture Line, her array of traditional and contemporary beds, bedroom sets, childrens furniture, dining room sets and other home accents reflect her focus on family values.
Ben Weissman, spokesperson for one of the largest online retailers of Kathy Ireland's bedroom furniture, explains why Home-and-Bedroom.com takes so much pride in its association with the philanthropist. "The top quality of her line, with its fine wood construction and attention to design detail, speaks for itself. But it's her interest in family values and her giving back to the community, that make her a true role model."
Some of the many charities Kathy Ireland supports are the Dream Foundation, Big Brothers Big Sisters, Special Olympics, Athletes and Entertainers for Kids, and Feed the Children. Said Ireland of her recent award, "No child in America should have to sleep on the floor. No family should be forced to live without furniture. HELP1UP and The National Furniture Bank is making a difference. We are grateful to be a small part of that great difference."
For more information on how your furniture purchase can help support the causes Kathy Ireland endorses, check out http://www.kathyireland.org. To see all the Kathy Ireland bedroom furniture designs Home and Bedroom Furniture has to offer, visit the company online at http://www.home-and-bedroom.com.
CONTACT INFORMATION:
Ben Weissman
Oak Park, CA
(800) 594-2130
bweissman @ home-and-bedroom.com
http://www.home-and-bedroom.com/
###