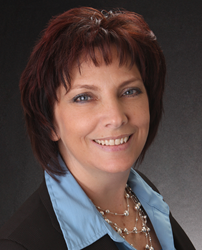 I am excited to be marking my one-year milestone with RE/MAX Alliance. I look forward to many more years with this outstanding organization.
Westminster, CO (PRWEB) February 23, 2016
Kathy LeMay is proud to announce she is celebrating her first anniversary with RE/MAX Alliance. "I am excited to be marking my one-year milestone with RE/MAX Alliance," said broker associate Kathy LeMay. "I look forward to many more years with this outstanding organization."
LeMay received her real estate license in North Carolina in 2008, and spent more than five years there helping military veterans with their real estate needs. As the wife of a retired Air Force veteran, she spent twenty-five years traveling the globe, moving fourteen times.
"I eventually settled in the Denver area in 2014 and became licensed here shortly afterwards," said LeMay. "I chose RE/MAX Alliance because RE/MAX is the best brokerage option for Realtors® and RE/MAX Alliance has a huge presence in the Denver Metro area."
RE/MAX, in fact, is one of the best known real estate brands in the world. The RE/MAX brand was born in Denver and RE/MAX headquarters is still located here. The dynamic market in Denver, which is the No. 1 housing market in the nation in 2016, is a "fun place to be a Realtor®," adds LeMay.
"Working with buyers gives me the opportunity to connect with the people I am serving in a very personal way," said LeMay. "Working with sellers is also fun, because properties are selling quickly and at top value, which makes for happy sellers."
In addition to real estate, a generous spirit runs throughout the RE/MAX network and giving back to the community is part of the culture. As for LeMay, during her tenure with RE/MAX Alliance in the past year, she has been able to give back to the community by participating in programs such as Precious Child Backpacks and the Christmas Giving Tree, which are supported by RE/MAX Alliance; and Children's Miracle Network and Susan G. Komen®, which are both supported RE/MAX wide.
"I've also pledged to make a donation to Homes for Our Troops for every sale I make," said LeMay. "It's tremendously rewarding to make a difference while making a living…and RE/MAX Alliance helps make that possible for me."
About Kathy LeMay, RE/MAX Alliance
RE/MAX broker associate Kathy LeMay specializes in military relocation, buyer brokerage, new construction, and short sales. Kathy serves the Westminster, Arvada, Northglenn, Wheat Ridge, Thornton, Broomfield and Brighton, CO, areas. For more information, please call (303) 565-0884, or visit http://www.recolorado.com/kathy-lemay. The office is located at 9737 Wadsworth Pkwy., Westminster, CO.
About the NALA™
The NALA offers small and medium-sized businesses effective ways to reach customers in the digital age, while providing a single-agency source that helps them flourish in their local community. The NALA offers its clients an array of marketing tools from press release campaigns and social media management to a cause marketing program. The NALA's mission is to make businesses relevant and newsworthy, both online and through traditional media, by providing increased exposure at reasonable costs. For media inquiries, please call 805.650.6121, ext. 361.