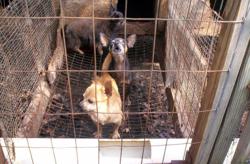 Dogington Post encourages Katie Holmes to not support puppy mills and to, instead, set an example by getting a pup for Suri either from a shelter or a reputable breeder.
Boca Raton, FL (PRWEB) July 19, 2012
In the wake of a very highly publicized split from husband Tom Cruise, Katie Holmes, star of Batman Returns was photographed taking the couple's daughter, Suri, puppy shopping at a pet store in Manhattan. As reported by ABC News, the shop attendant pulled two puppies for Katie and Suri to see. The newly single mom left the store with a sobbing Suri in tow and without purchasing a puppy.
Though she didn't purchase a puppy that day, the starlet's visit to a puppy store has animal activists and pro-adoption advocates up in arms. Puppies sold at pet stores are typically bought from puppy mills. Dogington Post believes it is the social responsibility of celebrities who are paid millions of dollars to be in the public eye to set an example for those watching them.
The online dog news source has initiated an anti-puppy mill campaign in light of the media attention surrounding Ms. Holmes. Her decision to visit a puppy store rather than adopt one of the thousands of puppies available from a rescue shelter, or even purchase from a reputable breeder, sets a bad example to the general public. Purchasing dogs from pet stores supports the puppy mill industry.
"We would prefer to see Katie take her 6-year-old daughter to visit a shelter and teach her the value of saving the life of a homeless dog," said Brandy Arnold, Editor at Dogington Post. "She could interview reputable dog breeders instead of supporting puppy mills or use her huge star power to speak out against the horrific, inhumane ways in which puppy mill dogs are treated."
This latest initiative by the dog news site aims to teach the public that puppies bought and sold at pet stores are generally born in puppy mills. Pet stores and puppy mills are in the business to make money. Puppy mill dogs are not bred for genetic health, good type or temperament – all qualities a potential buyer thinks they are getting with the purchase a purebred dog. As long as people continue to buy puppies from pet stores, there will always be puppy mills to supply puppies for the consumer market. A puppy mill's only concern is profit. They don't care for the health of their breeding stock. They don't care for the health of the puppies that are produced. They don't care where their puppies end up – as long as they make a profit.
Dogington Post seeks to educate it's many readers that the only way to eliminate puppy mills is to stop buying puppies from pet stores, online retailers, or through newspaper classifieds. Adopting a dog from a local animal rescue organization or purchasing from a reputable, responsible breeder are appropriate options for those seeking to add a dog to their family.
The dog news site reaches over 1.5 million dog lovers each month and hopes to make a huge impact by educating it's readers on the truth about pet stores and puppy mills. Dogington Post encourages Katie Holmes to not support puppy mills and to, instead, set an example by getting a pup for Suri either from a shelter or a reputable breeder.
For more information about Dogington Post and their efforts to stop puppy mills, visit http://dogingtonpost.com or watch on YouTube.
About Dogington Post:
DogingtonPost.com was created for the love of dogs. It promises a forum of informative articles, newsworthy dog stories, health and breed information, and heartwarming videos. The site addresses current issues affecting dogs and their human parents – from serious health concerns to lifestyle issues on feeding, grooming and the overall well-being and mental health of dogs. It is the Internet newspaper, all about dogs.