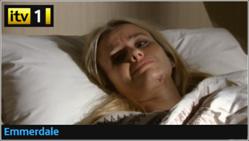 Katie is displeased though, worrying that "it seems so permanent".
Leicester (PRWEB UK) 12 December 2012
Oakland Stairlifts reveal how people recovering from injuries are able to benefit from having a stairlift at home, in light of the recent trauma an Emmerdale character is facing.
Emmerdale is a British soap opera broadcast on ITV to critical acclaim. In a recent episode the character Katie Macey (Sammy Winward) fell into a mineshaft suffering many injuries, including a shattered pelvis which left her unable to walk.
In last night's episode of Emmerdale, Katie's husband, Declan Macey (Jason Merrells) came to comfort his wife in hospital, struggling with the pain of physiotherapy. Declan explains he's installed grab rails and a stairlift at their home in an attempt to help her through a difficult time.
Katie is displeased though, worrying that "it seems so permanent". Stairlifts are in fact used as a temporary healing aid worldwide. A Customer Service Representative for Oakland Stairlifts commented, "We offer a rental stairlift service for people in the same situation as Katie. Renting a stairlift is sometimes the only way people will be able to heal properly once they leave hospital. Putting unnecessary strain on broken bones can do more harm than good to the injury. The idea that a stairlift has to be forever is misplaced. We provide our customers with a rental service on both curved and straight stairlifts, meaning anyone who needs a stairlift temporarily can have one."
The character suffered a shattered pelvis is a serious injury, causing many problems later in life should people not allow themselves to heal properly. This is the type of temporary situation many people may be able to relate to when recovering from a serious injury.
Oakland Stairlifts are a UK based cheap stairlift supplier. They provide a rental service on both their straight and curved stairlifts, in order to offer a wider range of stairlift solutions to those in need of a stairlift to help them heal from injury.