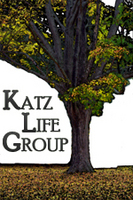 The general US life insurance market outlook for '09 looks tough but promising. Initial market surveys are showing that insurance consumers, while still hovering in the
Memphis, TN (PRWEB) March 28, 2009
Katz Life Group, LLC (KLG) announced today that they are pleased to offer life insurance brokerage general agency services to insurance producers, both nationwide and in the Mid-South. Lines of business include Universal and Term Life Insurance, Annuities, Fixed and Index, Premium Finance and Secondary Market Solutions. Per Gershon Yarmush, "Our broker tools include proprietary advanced sales calculators and a sophisticated online web portal where advisors can download materials and quote from the field. An experienced staff of life insurance professionals, trained and technically proficient in all of the latest advances in insurance sales technology is on hand to deliver field support, and our partnership with a national independent marketing organization allows us to offer our producers the most competitive commission rates, and in depth pre-underwriting of cases to ensure a high placement ratio."
EXPERIENCE
KLG will draw on successful sales techniques and life insurance expertise used to build Finance For Life, LLC. This prior experience, acquired over the past several years, has resulted in the placement of nearly $1,000,000,000 in face amount of life insurance, and successful brokering of over $250,000,000 in life policies on the secondary market. The principals at KLG, through the operation of these other ventures, have developed a loyal, high volume producer base that consistently generates dependable commissions.
CUSTOMER BASE/MARKETING
"New KLG agents, producers and brokers are in good company. Our existing base is a pool of upwards of 500 satisfied agents, already using services associated with the KLG brand. These producers are largely in the top 1% of the country in terms of overall and annual production, as well as average net worth of prospective insureds," says Ronnie Katz, President of KLG.
KLG will also use its marketing, branding and loyalty building skills in helping their agents develop local markets including greater West Tennessee, Mississippi and Arkansas. In order to service this regional area, KLG employs a dedicated Brokerage Manager, with a 20 year proven track record. Their internal staff also has a high level of sophistication and experience in Internet, Print, Seminar and Trade Show marketing and is ready to consult and assist agents in their marketing efforts.
OUTLOOK
"The general US life insurance market outlook for '09 looks tough but promising. Initial market surveys are showing that insurance consumers, while still hovering in the "flight to safety" pattern currently governing all asset classes, are renewing their commitment to the stable non-correlated bedrock of estate planning and risk avoidance. Annuities, with their steady returns and floor guarantees, continue to receive strong cash inflows from capital exiting other riskier asset classes such as equities and real estate," comments Mr. Yarmush.
KLG is positioned to provide strong support to the advisors servicing these markets through leverage of current experience, expertise and strong partner/carrier relationships, as well as industry renowned service and state of the art technical tools.
SERVICES
Competitive Life and Annuity Products
Specialty Training in Premium Finance
Dedicated Case Managers
Web Portal for Forms Download and Instant Quoting
CapTRANTM Powerful Annuity Sales Software
Expertise in Premium Finance and Secondary Markets
Sales/Marketing Support
Licensing, Processing and Admin Support
Financial Pre-underwriting: Boost Placement Ratios of Large Face Cases
ABOUT KATZ LIFE GROUP
To receive more information about Katz Life Group, please contact Ronnie Katz or Gershon Yarmush at (866) 781-KATZ (5289) or visit our KLG website
# # #