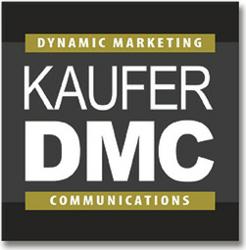 Kaufer DMC is providing a variety of digital marketing services, including inbound marketing, social media, content creation and SEO to a variety of healthcare-related organizations
Seattle, WA (PRWEB) February 06, 2013
Kaufer DMC announced today that it has added four healthcare-related organizations to its digital marketing services group. Kaufer DMC will provide services to the companies through customized inbound marketing and social media programs.
"The Healthcare industry is an exciting one for us," said David Kaufer, Founder and Chief Dynamic Officer. "We are making a significant push to establish a strong presence in this sector given its size and importance to an aging population. We're honored that the executives and marketing teams in these vibrant organizations trust us with such critical work on their behalf."
Kaufer DMC is providing a variety of digital marketing services, including inbound marketing, social media, content creation and SEO to a variety of healthcare-related organizations, including:

King LASIK, one of the largest LASIK providers in North America,
Premier IVF, a consortium of reproductive medicine professionals focused on the advancement of research and development within their field,
Overlake OB/GYN, one of the leading Obstetric & Gynecologic health care facilities in Puget Sound and,
Vital Kids Medicine, a Seattle-based facility that offers comprehensive integrative treatment options for children's health care needs
According to the New York Times, Four in five Internet users have searched the Web for health care. Inbound marketing focuses on creating (and sharing) compelling content that meets the needs of a growing number of consumers searching for this information.
Kaufer DMC also provides digital marketing services to clients in other industries, including legal technology, cable broadcasting and B2B consulting firms. The company will be making additional announcements focused on these industries in the near future.
About Kaufer DMC
Launched and led by seasoned branding, marketing and communications veteran David Kaufer, Kaufer DMC is a digital marketing agency that creates successful branding, visibility and buzz-building programs that take advantage of the new inbound marketing era. To learn more about Kaufer DMC, visit http://www.KauferDMC.com, or follow the company on Twitter at http://www.Twitter.com/KauferDMC or Facebook at http://www.Facebook.com/KauferDMC.
Media Contact:
David Kaufer
206 262 7302 Office
425-275-8814 Mobile
David (at) KauferDMC.com