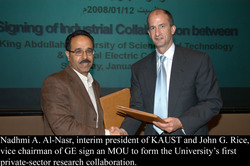 GE's collaboration with KAUST represents our commitment to find the best partnerships around the world to drive cutting-edge research and technology development for the company
Dhahran, Kingdom of Saudi Arabia (PRWEB) January 17, 2008
King Abdullah University of Science and Technology (KAUST) signed a Memorandum of Understanding (MOU) on January 12, 2008, with GE. The agreement marks KAUST's first private-sector alliance and establishes a cooperative relationship in research and program development. It follows similar agreements that KAUST signed in 2007 with leading universities and research institutions around the world.
KAUST is a new world-class, graduate-level research institution currently under development in Saudi Arabia. KAUST Interim President Nadhmi A. Al-Nasr and John G. Rice, Vice Chairman of GE and President and CEO of GE Infrastructure, signed the MOU to explore research opportunities and information exchange in mutually beneficial areas. This will support KAUST's mission of generating research and discovery to benefit Saudi Arabia, the region and the world.
"GE has been a global leader in the field of technology innovation for many years. We are delighted to work with this accomplished company, and we value their expertise as we build KAUST's capacity," said Dr. Mohamed E. Samaha, KAUST Interim Vice President for Research.
KAUST and GE will explore collaboration opportunities in several areas, including:
-- design, construction and initial operation of KAUST's research centers and lab facilities.
-- collaborative research programs conducted at GE Global Research Center (GRC) and/or KAUST
-- exchange of scientific, technical and administrative staff as needed
-- exchange of information on research and engineering topics of mutual interest
"GE's collaboration with KAUST represents our commitment to find the best partnerships around the world to drive cutting-edge research and technology development for the company," said Rice. "We look forward to working with KAUST leaders as they continue with plans to establish a world-class research institution in Saudi Arabia."
KAUST and GE will explore research opportunities related to crude oil treatment and processing, and combustion-fuel flexibility. Other principal areas of research being explored include CO2 reduction and sequestration technologies, integrated gasification, geological data processing and visualization, renewable energy and environmental technologies, oil and gas technologies such as multi-phase pumping, and water desalination and treatment technologies.
In addition to GE, KAUST has also signed MOU or contracts to create similar partnerships with several other organizations, namely: the Woods Hole Oceanographic Institution, the Institut Français du Pétrole in France, the National University of Singapore, the Indian Institute of Technology, Bombay and American University in Cairo.
About KAUST
King Abdullah University of Science and Technology (KAUST) is being built in Saudi Arabia as an international, graduate-level research university dedicated to inspiring a new age of scientific achievement in the Kingdom, the region and around the globe. As an independent, merit-based institution, KAUST will employ many of the best practices from leading research universities and enable top researchers from around the globe and across all cultures to work together to solve challenging scientific and technological issues. The KAUST global research and education network will support diverse talents, both on its campus and at other premier universities and research institutions, through collaborative research agreements, grants, and student scholarship programs. The core campus, located on more than 36 million square meters on the Red Sea at Thuwal, is set to open in September 2009. For more information about KAUST, visit http://www.kaust.edu.sa.
About GE
GE is Imagination at Work -- a diversified technology, media and financial services company focused on solving some of the world's toughest problems. With products and services ranging from aircraft engines, power generation, water processing and security technology to medical imaging, business and consumer financing and media content, GE serves customers in more than 100 countries and employs more than 300,000 people worldwide. For more information, visit the company's Web site at http://www.ge.com.
###