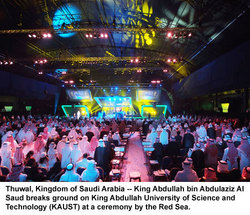 The Role of the Research University in the 21st Century
Thuwal, Kingdom of Saudi Arabia (PRWEB) October 21, 2007
King Abdullah bin Abdulaziz Al Saud, Custodian of the Two Holy Mosques, today hosted a gathering of more than 1,500 dignitaries from around the world to officially break ground for a new world-class, graduate-level science and technology university on Saudi soil.
With one of the largest university endowments in the world, a program to recruit top-flight faculty and students from across the globe and collaborations already underway with prestigious research institutions across several continents, King Abdullah University of Science and Technology (KAUST) is positioned to become a leading center of scientific discovery and human advancement within the Kingdom, across the region and around the globe. Construction of the facility on the shores of the Red Sea has begun, and the University is expected to open for operation in September 2009.
KAUST was the brainchild of King Abdullah, who has inspired and overseen a heightened investment in education and the economy in recent years in the Kingdom. King Abdullah selected His Excellency Minister Ali Ibrahim Al-Naimi to lead the development of KAUST.
"KAUST is the decades-long vision of His Majesty King Abdullah to build a world-class University in Saudi Arabia dedicated to convening the best minds for the purpose of unlocking the great mysteries of science and technology for the progress of all humanity," His Excellency the Oil Minister said. "And indeed, that vision is now becoming a reality."
KAUST Interim President Nadhmi Al-Nasr further emphasized that while the University will be physically grounded in Saudi Arabia and serve the Saudi people, it will be an international institution as well.
"KAUST will collaborate with the best institutions and convene the most talented scientists from around the globe to enable discovery that will help all humanity," Al-Nasr, said. "It will also deepen and diversify Saudi Arabia's knowledge-based economy."
Underlining the groundbreaking celebration, KAUST will also host a special academic symposium on October 22 titled "The Role of the Research University in the 21st Century," which will draw on many of the most influential scholars and academic administrators from around the world.
Among those participating in the conference will be:

His Excellency Khalid Al-Sultan, Rector of King Fahd University of Petroleum and Minerals*
His Excellency Mohammed Al-Suwaiyel, President, King Abdulaziz City for Science And Technology
Olivier Appert, Chairman and CEO, Institute Francais du Petrole*
Robert Brown, President, Boston University
Paul Ching-Wu Chu, President, Hong Kong University of Science & Technology
Marye Anne Fox, Chancellor, University of California San Diego
John Hegarty, Provost of Trinity College, Dublin
Wolfgang A. Herrmann, President of Technische Universitat Munchen
Karen Holbrook, President Emeritus, Ohio State University*
Frank H. T. Rhodes, President Emeritus, Cornell University - Moderator
Fawwaz T. Ulaby, Williams Professor, Electrical Engineering and Computer Science, University of Michigan - Moderator
Dr. Charles M. Vest, President of the National Academy of Engineering and President Emeritus of MIT, who will offer the keynote address
*denotes member of KAUST International Advisory Committee
"This symposium will be an example of how KAUST will play a critical role of convening the best minds from around the world and of collaborating with other leading institutions to uncover new innovations and discoveries," noted Ahmad Al-Khowaiter, interim provost of KAUST.
KAUST's academic model is structured around four research institutes, each including research centers devoted to a particular set of issues or challenges that could benefit from concentrated scientific and technological study.
In the 12 months since the University has been under development, KAUST has formed partnerships with some of the world's leading research institutions. These include formal agreements with Woods Hole Oceanographic Institution in the U.S.; Indian Institute of Technology in Bombay, India; Institut Français du Pétrole in France, the National University of Singapore and the American University in Cairo. These relationships were established to help foster innovation and convene some of the world's leading minds in science and technology.
For more information about KAUST, visit http://www.kaust.edu.sa.
###