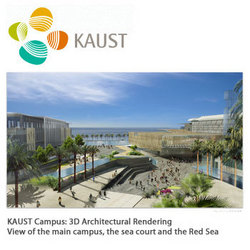 The research programs will increase our fundamental understanding of the ocean and its ecosystems in this important part of the world, and should prove valuable to Saudi environmental resource managers.
Dhahran, Kingdom of Saudi Arabia (PRWEB) August 13, 2007
The King Abdullah University of Science and Technology (KAUST) announced that the Woods Hole Oceanographic Institution (WHOI) will be the first partner in its global collaborative research program. A delegation from WHOI arrived on June 15 in Saudi Arabia to view the KAUST site and conclude the initial Memorandum of Understanding that was signed in April 2007.
KAUST is a new world-class graduate research university that is under development at a site along the Red Sea approximately 80 kilometers north of Jeddah. Set to open in September 2009, KAUST's aggressive global research program begins now with collaborative projects such as the WHOI initiative announced this summer. The University expects to conclude as many as four collaborations with leading institutions in other fields. A substantial grant program for individual investigators and centers around the world and a student scholarship program will be launched this summer.
Among KAUST's four fields of research, ocean research is critical because the coastal campus includes 19 million square meters of protected marine sanctuary. The Memorandum of Understanding signed by WHOI and KAUST creates three initial areas of research at KAUST: coral reefs; coastal hydrography; and fisheries and aquaculture. WHOI also will provide consultation on the design of laboratory support, and dock facilities for the KAUST Marine and Ocean Research Center, which will provide opportunities for advanced research on Red Sea oceanography and marine life.
"We treasure our relationship with Woods Hole not only because it is our first formal collaboration with another world-class research institution," said Nadhmi Al-Nasr, Interim President of KAUST, "but also because it will yield new discoveries from the Red Sea and enrich the minds of future scientists from around the world. KAUST will contribute to global scientific and technological advancement by bringing the world to Saudi Arabia and Saudi Arabia to the world."
"We are excited to embark on this new collaborative research program with KAUST," said Dr. Laurence Madin, WHOI Director of Research. "The research programs will increase our fundamental understanding of the ocean and its ecosystems in this important part of the world, and should prove valuable to Saudi environmental resource managers."
The proposed coral reef systems research project will focus on corals and reef fishes and provide critical information for the protection and sustainable use of coral reef ecosystems along the Saudi Arabia coast in the northern central Red Sea. The project will assess a range of threats to coral reef health and identify regional environmental stress factors that make the reefs susceptible to disease, bleaching and death.
The goal of the proposed WHOI-KAUST three-year fisheries and aquaculture project will be to develop an integrated bioeconomic model of the Red Sea coast of Saudi Arabia that describes the dynamic relationships among fish stocks and the fisheries that harvest them. By tracing out the biological and economic effects of alternative fisheries policies, such a model provides support for resource managers.
The proposed coastal hydrography and circulation project will establish a suite of observational and modeling activities that will provide the first comprehensive description of the physical oceanography in the Red Sea. This research also will support studies of coral reef ecology and provide a baseline for long-term monitoring of the coastal environment.
KAUST is seeking to establish similar collaborations with other world-class scientific research institutions around the University's four core interdisciplinary research clusters: resources, energy and the environment; biosciences and engineering; materials science and engineering; and applied mathematics and computational science.
About KAUST
KAUST is being built in Saudi Arabia as an international, graduate-level research university dedicated to inspiring a new age of scientific achievement in the Kingdom, the region and around the globe. For more information about KAUST, visit http://www.kaust.edu.sa.
About Woods Hole Oceanographic Institution
The Woods Hole Oceanographic Institution is a private, independent organization in Falmouth, Mass., dedicated to marine research, engineering, and higher education. Established in 1930 on a recommendation from the National Academy of Sciences, its primary mission is to understand the oceans and their interaction with the Earth as a whole, and to communicate a basic understanding of the ocean's role in the changing global environment.
###