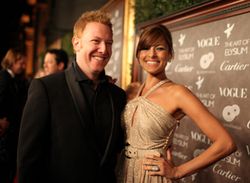 The support shown to The Art of Elysium by the entertainment community is truly overwhelming
Los Angeles, CA (PRWEB) January 11, 2009
Relativity Media, LLC CEO, Ryan Kavanaugh and fashion designer Rosetta Millington Getty hosted The Art of Elysium's 2nd annual black-tie charity gala this past Saturday, January 10th, 2009. The occasion served as an event to showcase the multitude of artistic expressions The Art of Elysium shares with hospitalized children on a daily basis. The gala saw actress Eva Mendes receive the "Spirit of Elysium" award for her enthusiastic support and active participation in The Art of Elysium's hospital program over the past two years, as well as her dedication to securing considerable financial support for the program.
The visual and conceptual aspects of the theme, entitled "Heaven," were created by legendary director, Jim Sheridan (Brothers, My Left Foot, In America), who also received the program's Visionary award that evening. The gala, hosted at The Vibiana in downtown Los Angeles, drew dozens of supporters, as did the gala's "Hell"-themed after-party at The Edison, also conceptualized by Sheridan.
"The support shown to The Art of Elysium by the entertainment community is truly overwhelming," said Ryan Kavanaugh, a member of The Art of Elysium's Board of Directors, and a passionate sponsor and supporter of the organization. "The money raised tonight will go a long way to support the programs Elysium provides, which do so much to help children who need encouragement during their difficult time. It is of the utmost importance that we do everything we can to continue their inspiring work."
Gala attendants included Sting and wife, Trudie Styler, Gerard Butler, Kirsten Dunst, Aaron Eckhart, Tobey Maguire and Jennifer Meyer, Rosanna Arquette and Patricia Arquette, Joy Bryant, Nicole Richie and Joel Madden, Rumer Willis, Amy Smart, Milla Jovovich, Courteney Cox and David Arquette, Bonnie Sommerville, Dave Annabelle, Shiva Rose, Charles Roven, Kate Bosworth, Shannen Doherty, Brittany Snow, Marisa Tomei, Sophia Bush, Ali Larter, Elijah Wood, Jared Leto, Rachel Griffiths, Topher Grace, Amber Heard, Paula Wagner and Rick Nicita, Lisa Love, Frederic de Narp and Ben Silverman. Guests were treated to cocktails, dinner, a vintage jewelry display from Cartier, and a stunning fashion show (set to a live opera performance) from Vogue. Singer Priscilla Ahn also captivated attendees with an acoustic performance of Amazing Grace. The gala and after party were produced by Jeffrey Best of Best Events, and were sponsored by Cartier, Vogue, and Relativity Media.
For more photos from the event, please click here: http://www.flickr.com/photos/briansolis/sets/72157612381509479/
ABOUT THE ART OF ELYSIUM
The Art of Elysium is a non-profit 501(c) (3) organization founded in 1997 which encourages actors, artists and musicians to voluntarily dedicate their time and talent to children who are battling serious medical conditions. They provide artistic workshops in the following disciplines: acting, art, comedy, fashion, music, radio, songwriting and creative writing. They work with numerous hospitals and hospices throughout Los Angeles.
For more information on The Art of Elysium please go to http://www.theartofelysium.org.
Press Contact:
Mara Buxbaum
Tel: (323) 822-4800
Email: mbuxbaum@id-pr.com
# # #