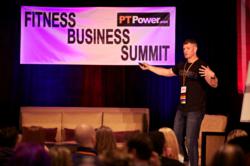 Helping others just feels good. We all feel better and more satisfied when we know we're doing good things for other people.
CHINO HILLS, California (PRWEB) April 02, 2013
Kawartha Lakes personal trainer Corporal Sean Francis, owner of Fit Corps Boot Camp in Lindsay and Fit Body Boot Camp Kawartha Lakes, has been honored by his peers as the 2013 Personal Trainer of the Year at the recent Fitness Business Summit 2013.
Sean is not only a personal trainer, but also a Kinesiologist and a doctor of chiropractic. He's also been in the Canadian Forces Reserve for 15 years. All of these have contributed to his success with his boot camps and his being awarded the 2013 Personal Trainer of the Year.
Building a healthier, happier life is what led to Sean's career as a successful fitness boot camp owner. "Back in 2010, I was working an awful lot of hours as a personal trainer and I was seeing some success," says Sean, "but my family life was suffering. I didn't spend enough time with my beautiful wife and daughter and I was exhausted and burned out."
Sean attended a fitness business mastermind summit sponsored by Fit Body Boot Camp and PT Power in early 2011. With the amazing support of his wife, he changed his Kawartha Lakes fitness center business model to a fitness boot camp and has been unstoppable every since.
"I love the boot camp model," says Sean, "because it gives the clients a great workout in a shorter period of time and it also allows me to have the family life that I need. Because we train in groups, I work fewer hours and yet I'm able to help so many more people."
Sean and his boot camps are also known for community outreach. He's been recognized as a "Builder" in the community through the charitable donations to Boys and Girls Club of Kawartha Lakes of over $5,000. In April 2011, Sean was recognized as the Young Entrepreneur of the Year at the Lindsay District Chamber of Commerce Evening of Excellence. He is so committed to helping his community that he has developed a new class for Teen Girls (13-17) which will focus on proper fitness programs and healthy nutrition choices, as well as body image and positive self-worth. He also plans to add a class for those 60 and up, in addition to the existing 38 classes that he now offers.
Because of the incredible growth of his fitness boot camps and all of Sean's achievements, he was invited to speak at the Fitness Business Summit where he was also surprised with the Personal Trainer of the Year 2013 award. Each year, summit attendees vote for the Top Presenter as well. Although it was his first time speaking to a group of 500 people, Sean tied as Presenter of the Year and as a result, PT Power and Fit Body Boot Camp donated $1,000 to the Kawartha Lakes Boys and Girls Club in his honor.
"I was so overwhelmed with excitement when I not only received Personal Trainer of the Year, but to be awarded Top Presenter as well and have $1,000 given to my charity was awesome," said Sean.
Sean divides his time between the Fit Corps Boot Camp and Fit Body Boot Camp in Kawartha Lakes and says that helping others to lose weight, eat healthier and live fuller, more active lives is a thrill that makes going to work exciting.
"Helping others just feels good. We all feel better and more satisfied when we know we're doing good things for other people," he explains. "Yes, success is a big part of my satisfaction, but I know how fortunate I am to do what I love and help so many in the process. That is something to feel good about."
With an attitude like that, it's not hard to see why Sean's peers at Fitness Business Summit 2013 felt he was the person to name Personal Trainer of The Year.