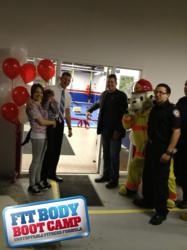 I knew that Fit Body Boot Camp was a perfect fit for me and would allow me to help even more people within my community.
Kawartha Lakes, Canada (PRWEB) June 21, 2013
Kawartha Lakes personal training center, Fit Body Boot Camp, recently hosted a successful Grand Opening fundraising event to benefit the local fire department's fire education program. The event was held on April 27th with close to 100 participants and brought in a total of $500 in just a few short hours.
Fit Body Boot Camp Kawartha Lake's Grand Opening featured fun activities like a 15-minute mini boot camp and held a raffle to give away an iPad Mini. Other prizes for the $5 raffle included health, beauty, and spa gift certificates that were donated by Health Medica, Mary Kay, Thirty One Gifts and other local businesses that came out to support the Kawartha Lakes Fire Department.
Sean Francis, personal training expert and owner of the new boot camp business, says he is excited to present a check to the Kawartha Lakes Fire Department so they can launch a much needed fire education program that benefits the entire community.
Francis is not just an average personal trainer with 14 years of experience. He is also a Doctor of Chiropractic, Certified Strength and Conditioning Specialist, and Kinesiologist, all of which allow him to offer the safest and most cutting edge proven methods to ensure his clients achieve results.
The Kawartha Lakes personal trainer says that he wanted to bring the fitness boot camp franchise to the community so he could help more locals get in shape and lose weight while in a supportive and encouraging environment.
He explains, "When I discovered Fit Body Boot Camp, I decided to learn more about their philosophy and dedication to changing lives with fitness boot camps around the world. I knew that it was a perfect fit for me and would allow me to help even more people within my community." Francis adds, "The Unstoppable Fitness Formula that Fit Body Boot Camp implements, along with the energy and motivation that my staff and I will provide, will give our boot camp members results unlike any ever before."
About Fit Body Boot Camp Kawartha Lakes
Fit Body Boot Camp Kawartha Lakes is part of the family of Fit Body Boot Camp fitness franchises, whose Global Goal is to expose and engage twenty percent of the world's population to a healthy and fit lifestyle by 2020. Fit Body Boot Camp Kawartha Lakes is owned and operated by Sean Francis. Sean is committed to helping members of the Kawartha Lakes community set and accomplish their own health and fitness goals, and to positively change their lives. For more information about Fit Body Boot Camp Kawartha Lakes, visit http://www.KawarthaLakesFitBody.com