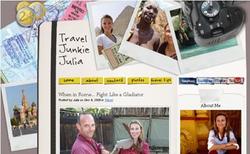 "KAYAK is a tremendous resource for any traveler and I am thrilled to be working with them as KAYAK has always been my go-to travel planning site," said Dimon. "They are passionate about getting the best deals in with ease, and I'm happy to continue to tu
Norwalk, CT (PRWEB) December 8, 2009
KAYAK (kayak.com), the world's leading travel search engine, today announced the launch of TravelJunkieJulia.com, a travel blog written by travel expert Julia Dimon. Dimon, an established journalist and self-proclaimed travel addict, will share her travel advice, stories from favorite destinations, suggestions for holiday trips, and much more.
Julia Dimon brings a wealth of travel experiences to this project, having previously visited over 80 countries across five continents. From braving the snake-infested jungles of Belize to hiking with silverback gorillas in Uganda, Julia has discovered a myriad of unique destinations which she aims to recount with readers each week.
"KAYAK is a tremendous resource for any traveler and I am thrilled to be working with them as KAYAK has always been my go-to travel planning site," said Dimon. "They are passionate about getting the best deals in with ease, and I'm happy to continue to turn to them to book anything from my weekend getaways to my global adventures."
Fans can visit TravelJunkieJulia.com to read about Julia's latest adventures, view her photo galleries, and watch her latest videos, learn Julia's favorite travel tips and more.
Steve Hafner, KAYAK CEO and co-founder said, "We are excited to welcome Julia to the KAYAK family. We look forward to learning from her about destinations all over the world, and we're proud to continue to help travelers plan their trips with ease, whether they travel near or far."
This program was developed in partnership with Dig Communications, a full-service public relations agency headquartered in Chicago, IL.
KAYAK continues to make holiday travel planning easier than ever. With the newly launched KAYAK Trips, it's simple to consolidate flight, hotel, car rental, maps and other events into a single itinerary at KAYAK's free kayak.com/trips, by forwarding booking confirmation e-mails from different travel sites to trips@kayak.com.
KAYAK Overview
The company's mission is to help people find the best travel choices easily by enabling them to compare hundreds of travel sites at once. KAYAK (kayak.com) provides powerful flight, hotel, car rental and vacation search, as well as travel search applications for mobile devices. The company has local sites in the US, UK, France, Germany, Italy, India, Spain, and several other countries, and also operates travel search site SideStep and hotel reviews and information site TravelPost.
Visit kayak.com, kayak.com/trips and kayak.com/mobile to learn more.
###