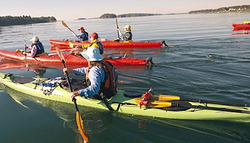 Freeport, Maine (Vocus) August 19, 2008
The brilliant colors produced in the fall by Maine's beech, birch, maple, aspen and white ash trees are known throughout the country, but with rising gas prices, a fall foliage sightseeing drive might break the bank.
But there are other ways to enjoy the awe-inspiring colors, like L.L.Bean Outdoor Discovery Schools' special Fall Foliage Tour kayak tour. This seasonal trip is offered on October 4-5 and October 9-12 and is only $59 for adults and $39 for youth (ages 10-15).
Guests on this half-day trip will discover the vivid colors of the autumn leaves along the Maine coast in a whole new way - by kayak. There are no busy roads or traffic jams to worry about in the waters along the coast of Freeport, Maine.
From a kayak, participants will be able to give their full attention to Mother Nature's annual show of brilliant yellow, scarlet, brown, red and purple leaves. The trip begins with a short paddling demonstration before taking to the Casco Bay waters to experience the varied coastline of Freeport at its most beautiful.
Registered Maine Guides lead the trips, and are happy to share their knowledge about the area's wildlife and its history with kayakers. The view from the water is nothing like the view from the docks - it's a photographer's dream and a nature lover's paradise. The stable, two-person kayaks give paddlers the opportunity to view the scenery at their own pace, in an active outdoor setting.
Since 1979, the guiding principles of L.L.Bean Outdoor Discovery Schools have remained the same: To promote the enjoyment of the outdoors and to foster an appreciation and respect for our natural environment. These foundations are inherent in every program offered -- whether it is a two-hour Walk-On Adventure or a three-day trip. L.L. Bean retail stores are conveniently located along the eastern seaboard, making it easy, affordable, and convenient to try out a new activity or to get better at a familiar one. A complete list of offerings is available online at http://www.llbean.com/ods.
L.L.Bean Outdoor Discovery Schools
Contact: Stephanie Keister
Telephone: 207-552-7562
E-mail: skeister @ llbean.com
Web: http://www.llbean.com/ods
Click Here for Media Kit
###