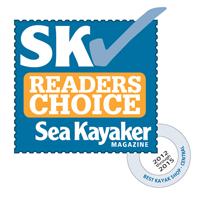 We started teaching sea kayaking during its infancy here in North America.
Madison, WI (PRWEB) November 06, 2012
Rutabaga Paddlesports, the premiere Midwest kayak & canoe shop, is voted the Best Kayak School and Best Sea Kayak Shop by the readers of Sea Kayaker Magazine. Paddling students of all skill levels have long held Rutabaga Paddlesports in high regard for their kayak instruction both in Madison, Wisconsin and Door County, Wisconsin.
Rutabaga Paddlesports is one of only four businesses in North America to receive not one, but two prestigious Readers' Choice Awards from Sea Kayaker Magazine. These awards come the same month as Rutabaga celebrates its tenth anniversary in business under current owner, Darren Bush "We're pleased to be recognized for our commitment to sea kayaking," says Bush, adding that, "We love paddling anything that floats, and sea kayaking is a particular passion for most of the staff."
Rutabaga Paddlesports began its kayak school in Madison over twenty years ago to teach people of all ages and skill levels to kayak, canoe, and more recently, how to stand-up-paddle (SUP). "Our dedication to outdoor instruction is core to our culture. We understand that skills are critical for a sea kayaker to enjoy their sport," says Rutabaga Outdoor Programs Director Nancy Saulsbury. "We employ some of the best instructors in the kayaking community to share their talents with our students. We started teaching sea kayaking during its infancy here in North America."
For more information about Rutabaga Paddlesports please visit:
http://www.rutabaga.com
About Rutabaga Paddlesports:
Rutabaga Paddlesports is the leading canoe and sea kayak specialty shop in the Midwest. Rutabaga offers expert advice and a world class canoe and kayak school. The company is family-owned with a staff of 30 passionate paddlers. Rutabaga Paddlesports is responsible for the world's largest annual canoe and kayak consumer show, Canoecopia, and also presents the Door County Sea Kayak Symposium every July.
###