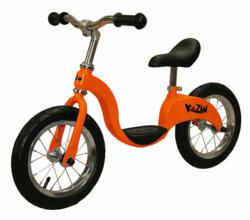 The patented step-in foot rest frame design differentiates the KaZAM balance bike from its competitors.
Virginia Beach, VA (PRWEB) December 31, 2011
KaZAM Bikes will be exhibiting at the 2012 American International Toy Fair in New York City. KaZAM will be located in booth 5152 on the lower level of the Javits Center. Appointments can be made now through the beginning of the show. Press samples and high res images are available upon request.
With a KaZAM bike, children ages 3-6 can learn to bike without training wheels. Children propel the KaZAM with their feet while learning the coordination and balance they need to transition to a more challenging pedaled bike.
KaZAM is the only balance bike on the market uniquely designed with a foot rest. By using the foot rest, children can practice maintaining proper balance and center of gravity similar to riding a traditional bicycle, which makes the transition from a KaZAM to a bicycle much easier. The patented step-in foot rest frame design differentiates the KaZAM bike from its competitors.
The KaZAM Balance Bike has won numerous awards from toy experts. Parents Magazine named the KaZAM Balance Bike one of the 20 Best Summer Toys in their June 2011 edition. The award-winning KaZAM bike also has been featured on NBC's The Today Show, in Parenting Magazine, and was the recipient of the 2010 Oppenheim Toy Portfolio Gold Seal Award and the 2010 Creative Child Magazine Ride-On Toy of the Year Award.
The reviews from parents on the KaZAM website and Facebook page have been similarly glowing. On December 27, 2011, one Facebook fan commented: "My 2 year old son just got the red KaZAM for Christmas and already has the concept down. We are positive that he will be riding a regular bike in less than 6 months thanks to this awesome product."
About KaZAM:
KaZAM balance bikes are available online for $99.95 (includes free shipping) and at specialty bicycle and toy retailers nationwide. KaZAM ™ bikes are now available in Orange as well as Red, Green, Pink and Blue. Visit http://www.kazambikes.com today to learn why KaZAM offers the most innovative and best balance bike on the market
###