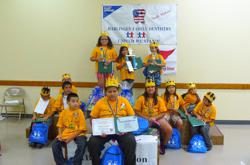 "The children did an excellent job," stated Valerie Salinas of the KB Foundation of Texas. "We are very happy to partner with the Harlingen Outreach Center and contribute through our sponsorship to changing the lives of children and our community."
Harlingen, TX (PRWEB) August 08, 2012
Three Harlingen youth were honored at the Harlingen Outreach Center this past week for their excellence in applying their writing and presentation skills learned in the Better, Brighter Me summer program at the Center.
Lyanna Juarez, Joanna De La Cerda and Tiffany Martinez were given gold, silver and bronze Olympic-style medals for their presentations on the topics of Take Care of Yourself, Safeguard and Improve Your Environment, and Set a Good Example.
The event and prizes were sponsored by the KB Foundation of Texas, Harlingen Family Dentistry, and Lone Star Printing. Runners-up were Sebastian Martinez, Peter Cisneros, Carlos Rodriguez, Rebecca Trevino, Emily Garcia, Aaron Gonzales, Jose Martinez, Jaelin Ruiz and Joshua Martinez.
The Better, Brighter Me program kicked off back in June to teach and encourage participating children to make a positive change on their surroundings.
Cadets from the Harlingen High School JROTC program - Irene Medrano, Rachael Salas, Rosa Herrera, and Mallory Walters, under the direction of Master Sergeant Tony Gonzales – served as mentors to guide the children with their projects. Each youth created posters and an oral presentation on what they had done for each topic and this was then judged in the competition at the awards ceremony.
The judges for the competition were Rose Gomez, Deputy Chief Cameron County Juvenile Justice Center, Officer Jose Martinez Harlingen Police Department, Robert Gonzalez Lone Star Printing, and SFC David Mendoza with the US ARMY. Janie Reyna of Harlingen Area Teachers Credit Union tabulated the results.
"The children did an excellent job," stated Valerie Salinas of the KB Foundation of Texas. "We are very happy to partner with the Harlingen Outreach Center and contribute through our sponsorship to changing the lives of children and our community."
A number of others contributed to the success of the program which is based on the precepts of the popular and inspiring booklet, The Way to Happiness. These include former County Commissioner Edna Tamayo, Harlingen police officer Miryam Anderson, Elida Mendoza, Code Enforcement Officer, and Gail Thomason of Harlingen Family Dentistry.
All children who participated in the competition received Olympic-like medals. The first place winner also received five tickets to the Schlitterbahn Water Park at South Padre. The second and third place winners received a fifty dollar gift card for the Cinemark 16 Movie Theater.
For More Information Contact:
Gail Thomason
Better, Brighter, Me Program Director
Harlingen Outreach Center
(956) 412-0191