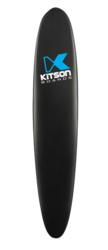 We really hope we can turn something like this into an annual event that everyone looks forward to
Olympia, WA (PRWEB) September 21, 2012
Though no official date has been set yet, the Kitson Board team has been scouting the surrounding lakes and bodies of water, in which there are many in the Lacey - Olympia area, searching for the perfect venue to set up with very own charity SUP Race event.
"Our main goal for this event is to, #1 raise awareness of the sport of paddle boarding in the Olympia, Washington area and #2, get people out on the water for a day of fun while supporting a good cause," said Heather Hoskins, KB Communications Director.
The top runner for the supported cause is the Wounded Warrior program, benefited injured soldiers. Having Kitson Board facilities located so close to the active Joint Base Lewis-Mccord, where not only the Army, but the Air Force also train, puts this cause as something closer to home than many may think.
A lot of strategic event planning will take place over the course of the next few months. Hoskins is heading the event team and will be looking for volunteers, vendors, racers and of course event sponsors in the upcoming months.
"We really hope we can turn something like this into an annual event that everyone looks forward to," said Hoskins. "This will be our trial run and we are very excited to see what KB and our South Sound community can pull together."
The event, which will ideally take place in June or July of 2013 will be the largest SUP event held in the area.
People interested in learning more about the event, volunteer or donate can contact Hoskins or go to the Kitson Board website for more info.
The event website will be live later this year.
Founded by Michael and Denise Kitson, Kitson Boards, LLC headquarters is located in Olympia, WA. Kitson Boards are all crafted out of the ultra durable and long lasting carbon fiber material. All production of surfboards, paddle boards and wakesurf boards, as well as the people behind the brand are based in North America. Kitson Boards prides itself on outstanding customer service and only the finest in recreational boarding and accessories. Free shipping is available throughout the continental USA.