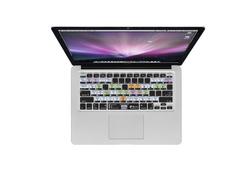 The new OS X Shortcuts keyboard cover is one that we are very excited about
El Segundo, CA (PRWEB) February 10, 2010
KB Covers (http://www.kbcovers.com), a leader in Apple Mac keyboard covers and keyboards, today announced the release of the OS X Shortcuts keyboard cover, which can help turn normal Mac users into power users. The KB Covers OS X Shortcuts keyboard cover contains color-coded Universal OS X shortcuts, plus shortcuts for Mail, Safari, and Finder.
Developed to help users take advantage of the power of OS X's most important and useful shortcuts, KB Covers has designed a keyboard cover for users of all experience levels. Learning new shortcuts or just helping to remember old ones, the KB Covers OS X keyboard cover will certainly improve your workflow and speed.
"The new OS X Shortcuts keyboard cover is one that we are very excited about," said Greg Sad, Marketing Director of KB Covers. "Our mission has always been to help users improve their workflow with popular Mac applications; Final Cut Pro, Logic Pro, Avid, Pro Tools, Photoshop, and many more. OS X shortcuts can help nearly any user work better and faster."
Consisting of soft, ultra-thin silicone, the KB Covers OS X Shortcuts Keyboard Cover has a smooth texture that won't slip off the keyboard and is non-restrictive to regular typing. It also helps to safeguard the MacBook from dirt, spills, wear and tear, allowing the user to protect their valuable equipment.
For more information about KB Covers, the OS X Shortcuts Keyboard Cover and other application keyboard covers, please visit http://www.kbcovers.com. KB Covers will also be an exhibitor at Macworld 2010 in San Francisco from February 11-14, 2010.
About KB Covers
KB Covers is dedicated to providing the finest quality keyboard covers for Apple/Mac desktop and laptop computers. Covers are made with stringent Quality Assurance methods, which help to ensure a tight fit, long-lasting durability, no paint cracking/chipping, a soft-feel, and ultimately a happy customer. They are designed to fit all Apple/Mac keyboard layouts around the world, including U.S. keyboard, European ISO keyboard, and Japanese JIS keyboard layouts, and new keyboard covers for popular applications are constantly being developed. To learn more about the KB Covers lineup, or to provide feedback and suggestions, please visit http://www.kbcovers.com.
Contact: Greg Sad
Marketing Director
KB Covers
###