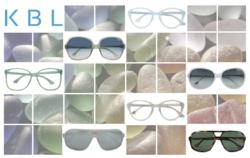 We hope our glasses do not dictate a style, but rather equip you for a journey all your own...be unique
New York, NY (PRWEB) July 27, 2011
The new KBL eyewear collection was inspired by our summers, the beaches and afternoons spent searching for hidden treasure with friends and family. Adam Mendelsohn, one of the founders and designer of all KBL optical and sunglasses specializes in unique color. He designs the collection starting with the color he is inspired by then moves to shape. The aquamarine, pale celadon, dove grey and milky taupe are a palette that is both sophisticated and calming. Just as the sea glass is softened by the tumbling of the ocean's waves. The hand made Italian acetate used by KBL is polished with a matte finish using sand to mimic the beautiful worn texture of the sea glass we were inspired by.
There are new unique optical shapes as well as some of our best selling styles Mor Chances, Whiskey Bandit and Now Now Now. The optical and sunglasses are for both men and women with the average retail of $180.
Founded in 2009, after over a decade of work developing sunglasses and optical designs for the worlds top eyewear brands. KBL's mission is to bring customers the same quality and fit, with a fresh design point of view, at half the price.
KBL is available through the finest etailers and retailers that share our passion for quality and design. Look through our lenses. There truly is a difference.
###