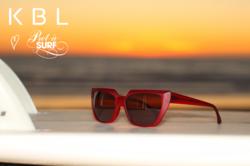 We hope our glasses do not dictate a style, but rather equip you for a journey all your own... be unique.
New York, NY (PRWEB) June 30, 2011
Unisex retro-inspired sunglass & eyewear brand, KBL has teamed up with vintage inspired swimwear brand PRET-A-SURF to release exclusive frames for summer!
The sunglasses feature a modern take on the classic cateye shape and a bold matte red frame that picks up the trims and prints that Pret-a-Surf so carefully selects. The lenses are NXT polarized, to protect the wearer on the brightest of summer days. The acetate is hand made in Italy offering amazing quality from the very best materials for $250 retail.
KBL was created in 2009 by fashion industry veterans husband and wife, Adam and Kara Mendelsohn. Adam and Kara had worked for many of the fashion industry leaders including Calvin Klein, Marc Jacobs, Michael Kors, Oliver Peoples, Thakoon, Zac Posen, etc before launching KBL.
The swimwear and surf line Pret-A-Surf was created by Karen Mulligan and Jillian Demling over the course of a summer in the Hamptons. Demling, an editor at Vogue, and Mulligan, a studio manager for Annie Leibovitz, were inspired by vintage tablecloths, aprons and retro-wallpaper.
Kara met Jill during a meeting at Vogue for KBL. The pair hit it off instantly and were introduced to each-other's respective co-founders. Both are small independent brands, who sharea passion for design, color and most importantly, function and accessibility. Their marriage of surf wear and sunglasses, is one fans of their products will surely love.
Founded in 2009, after over a decade of work developing sunglass and optical designs for the world's top eyewear brands. KBL's mission is to bring customers the same quality and fit, with a fresh design point of view, at half the price. KBL has partnered with the world's premier eyewear manufacturer to bring consistent world class quality. We combine old world hand finishing techniques and new world precise computer aided milling. This makes our finishes cleaner and crisper and frames stay in proper alignment and comfortable longer. We have built our frames from the finest acetate and strongest metal alloys, our lenses are crystal clear, light and impact and scratch resistant, we block 100% of UV rays, we have sourced the most robust hinges and nylon coated screws. All result in a more durable frame. The end result is the worlds best quality - fit - design, at a price for the people. The end result is palpable. Feel it in your hands. KBL is available through the finest etailers and retailers that share our passion for quality and design. Look through our lenses. There truly is a difference.
For more information please see http://www.kbleyewear.com.
# # #