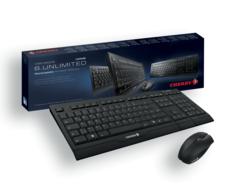 Birmingham (PRWEB UK) 21 June 2013
Cherry has launched 3 new keyboard products – the DW-5000, DW-8000 and the B.Unlimited AES.
All three offer a variety of functionality combined with style and Keyboard Specialists Ltd (KBS) is proud to announce that they will be supplying these products – along with all other Cherry keyboards and mice, directly to business and end users from their website - http://www.keyboardspecialists.co.uk.
With the new Cherry logo visible, the DW-5000 is a new black and grey wireless keyboard and mouse set, offering simple plug and play connectivity via a USB receiver, interference free 2.4GHz wireless technology with a 10m range, all housed in stylish new minimalist design housing. The keyboard has an additional 10 multimedia keys, giving access to the most commonly used functions, including e-mail, web homepage, volume and media control. The mouse is a simple but effective 2 button design, with scroll wheel and a speedy 1500dpi resolution optical sensor.
Following the success of the wired Strait keyboard (JK-0300), Cherry have now introduced a wireless keyboard and mouse set of the same stature. Since its release around 2 years ago, customers have been looking for a wireless version and the DW-8000 certainly doesn't disappoint. With the same Mac type styling for PC users, coupled now with a flat, but comfortable mouse, it is sure to be a huge success. The same features are kept from the original Strait product: USB connectivity, a white tile type key layout with 4 additional multimedia keys, all wrapped in a silver housing. The mouse is a simple 2 button design, matching the colour scheme of the keyboard and has a switchable 1000/2000dpi sensor. Wireless communication uses 2.4GHz technology and has an excellent 10m range.
Finally, the B.Unlimited AES model takes over from its predecessor, the B.Unlimited (M85-26000GB). Building on the successful original, the new model has now been upgraded to include AES level security, meaning secure communication between the keyboard, mouse and receiver, preventing the capture of vital information by external devices. The keyboard has 4 additional multimedia keys plus both keyboard and mouse have battery level indicators. These indicators will tell the user when to connect the supplied USB charging cable and give the batteries a boost – even if this is when the set is in use. The ultra-flat, solid feeling keyboard and mouse design remains, as does the 10m range and 2.4GHz frequency. Just with added security.
All Cherry Keyboards and Mice are available at Keyboard Specialists (KBS) Ltd and come with full manufacturers' warranty, timed delivery and same day dispatch on many models.
For more information, please visit Keyboard Specialists Ltd (KBS) at http://www.keyboardspecialists.co.uk or call on 0203 474 0234