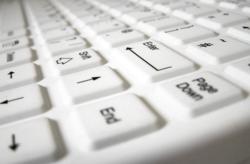 Birmingham (PRWEB UK) 19 October 2012
Many medical keyboards have been designed over the years to help reduce and control HCAIs and cross-contamination. With MRSA and C.Diff often found in healthcare environments, it is of utmost importance that infection control guidelines are strictly adhered to. KBS offer the largest range of medically approved & cleanable keyboards in the UK and keep many items in stock, ready for next day delivery. KBS understand
Cleankeys is a completely flat keyboard which is the quickest keyboard in the world to clean. With a choice of glass or acrylic fronts, the user can 'lock' the keyboard and completely wipe clean in less than 10 seconds. This cost-effective solution incorporates a built-in touchpad and is wireless with a rechargeable battery.
Unotron offer a fully waterproof keyboard which acts and feels like a standard keyboard. As it is sealed from the inside, liquid does not get in and with anti-bacterial protection incorporated; this means the Unotron keyboard is even dishwasher safe.
iKey have developed multiple keyboards with the NHS and offer a range which is fully cleanable & waterproof. Manufactured in USA, iKey offer high quality keyboards for all environments.
Vioguard utilises UV technology to sanitize and eliminate pathogens thus creating a completely controlled environment. With full cleaning done by the equipment itself, there is no need for any additional cleaning, making this innovative product extremely cost-effective.
Medigenic was developed with the NHS to offer a flat surface but also tactile feedback, with the advantage of a replaceable cover. The Medigenic Compliance keyboard has the patented 'Clean-Me' alert system which actively alerts the user when the keyboard needs cleaning.
Accumed offer a range of anti-bacterial, fully sealed and waterproof keyboards. With low profile keys to simplify cleaning, some also have an alert light and built-in pointing device.
All of these medical keyboards are fully HTM01-05 compliant and can also be used in any hospital setting. With demonstrations available and a full manufacturer's warranty, KBS have the expertise and undoubtedly one of the most complete ranges of quality peripherals to assist with all your cleanable keyboard needs.