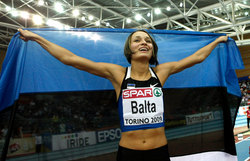 Tallinn, Estonia (PRWEB) March 10, 2009
Estonian investment company KC Grupp congratulates two Estonian athletes for winning gold medals - Mikk Pahapill in heptathlon and Ksenija Balta in long jump. KC Grupp with a huge sports enthusiast, Margus Reinsalu, for the owner is known for supporting different sports.
Pahapill finished with 6362 points and ended the contest with a personal best in 1000 m by running 2:45.69. He achieved a PB also in 60 m hurdles, running 8.03.
The silver medal went to the Russian Aleksei Kasjanov with 6205 points and the bronze to the Czech Roman Sebrle with 6142 points.
A day before a gold medal was brought to Estonia by Ksenija Balta in long jump with a world season best 6.87.
Published by: KC Grupp and Corpore
###