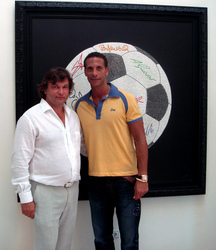 Linking football to culture and art could have enormous significance, especially for Margus Reinsalu
Tallinn, Estonia (PRWEB) July 18, 2008
Margus Reinsalu , an Estonian entrepreneur and owner of real estate development company KC Grupp , is one of the partners in the development of Le Jardin de Fleur - an area, which is to be transformed from the unknown coastline into a major holiday destination with the King Mohammed VI's Vision 2010 scheme. He is also involved in football through endorsements. Reinsalu incorporates real estate development and his love of football literally into art with his purchase of the crystal football at a recent reception at his home.
Reinsalu, Morocco's honorary consul in Estonia, bought The Crystal Ball Painting for 95000 pounds from Professional English Footballers Association 100 Years Anniversary. The piece was designed by Milena ZeVu and incorporated crystals in the shape of a football that is signed by the players of various football teams. 'The Crystal Ball Painting' involves several football world stars who were asked to place their signatures, made from Swarovski crystals, forming a very luxurious ball. Some protagonists of contemporary English football - Gianfranco Zola and David Beckham, Alan Shearer and Sven Goran Eriksson, Cristiano Ronaldo and Terry Venables - engraved their signatures in this work of art, thus accepting that they will acquire further level of immortality: after having become well-known for their sports accomplishments (on the field or on the bench), art enables them to become part of culture and museums, which is eternal.
"Linking football to culture and art could have enormous significance, especially for Margus Reinsalu," Luca Beatrice Art critic and professor at the Brera Academy of Fine Art, Milan, Italy has said.
Technical details of the Painting
Size of Painting: 1.4m x 1.4m
Number of crystals: Over 16,300
Technique: Acrylic with Swarovski Crystals, original technique, copyrighted
Colours: White and black panels covered with white and black crystals
Football stars' signatures covered with colored crystals
More info about the auction:
http://www.manchestereveningnews.co.uk/news/health/s/1022753_sven_sign
http://www.givemefootball.com/display.cfm?area=centenary-27k
Contact:
Dainis Hirv
+372 666 0607
dainis @ corpore.ee
# # #