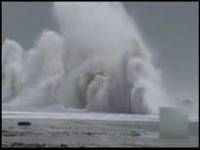 We're lucky that the dialysis community and emergency responders are working together to prevent the loss of lives
Washington, D.C. (PRWEB) February 26, 2009
"Dialysis patients represent one of the most at risk segments of the population during a natural disaster," said Bill Numbers, Vice President of Operations Support and Incident Commander for Disaster Planning and Response at Fresenius Medical Care North America (FMCNA). Numbers was in Washington to speak with an audience of congressional staffers focused on safeguarding the lives of dialysis patients in a natural disaster. The event, said Numbers, should remind everyone that "we always need to be ready and we must constantly work to be better prepared."
The briefing organized by the Kidney Community Emergency Response Coalition and Fresenius Medical Care looked at the problem of Chronic Kidney Disease (CKD) as well as ongoing emergency response and recovery efforts. With CKD rates skyrocketing, Chief Medical Officer and Senior Executive VP for FMCNA, Dr. Michael Lazarus explained that educating the public, policy-makers, and emergency response teams is more important than ever. Looking at data for the period between 1997 and 2006, Lazarus pointed to across-the-board increases in CKD rates:

106% for Hispanic Americans.
98% for Asian Americans.
55% for Native Americans.
49% for African Americans.
42% for Caucasians.
Since Kidney patients typically need four hours of dialysis three days each week in order to eliminate waste, toxins and extra fluids from their system, these increases also underscore the need for emergency planning. Any interruption caused by storms, floods, fires, earthquakes and other natural disasters that might affect electrical power, water lines or make routine travel impractical is life-threatening.
Thinking ahead is even more important than ever. "We're lucky that the dialysis community and emergency responders are working together to prevent the loss of lives," said Bill Numbers. "We simply need to ensure that we are doing everything we can, including educating the public."
Since March is National Kidney Month, briefing organizers hope to focus attention on the impact of natural disasters on dialysis patients. They also want the public to know what is already being done. Kelly Mayo, Project Director, Kidney Community Emergency Response Coalition, spoke about her organization's work with dialysis providers around the country. And Numbers described the evolution of FMCNA's response and recovery efforts, beginning with the Northeast power outage in 2003 through Hurricane Ike and Gustav. In 2008, Numbers said over 100 clinics and 8000 patients were affected during the 3 hurricanes in August through September 2008. During that time, Fresenius provided care to more than 500 non-Fresenius patients and brought in 4 large generators and diesel fuel to supplement local alternative power in Houston and Beaumont communities.
Reflecting on the importance of response and recovery efforts by Fresenius, KCER, and others, Bill Numbers said:
"We are committed to doing this whenever we have to and at whatever the cost. When it comes to dialysis patients, they have no options in a disaster. It is a huge responsibility to safeguard the lives of these individuals and families. And we will continue to work with government and other health providers to prevent the loss of life."
Kidney Community Emergency Response Coalition (KCER) mission is to collaboratively develop, disseminate, implement and maintain a coordinated preparedness and response framework for the kidney community in the event of any type of emergency or disaster. The KCER Coalition membership is open to anyone. To join the Coalition, visit our website and download a contact card or e-mail kcer(at)network7(dot)esrd(dot)net. Emergency preparedness resources and information on the KCER's current activities can be found on their website, http://www.KCERcoalition.com.
Fresenius Medical Care (FMCNA) is the world's largest integrated provider of products and services for individuals undergoing dialysis because of chronic kidney failure, a condition that affects more than 1.6 million individuals worldwide. Through its network of 2,297 dialysis clinics in North America, Europe, Latin America, Asia-Pacific and Africa, Fresenius Medical Care provides dialysis treatment to 177,059 patients around the globe. Fresenius Medical Care is also the world's leading provider of dialysis products such as hemodialysis machines, dialyzers and related disposable products. Fresenius Medical Care is listed on the Frankfurt Stock Exchange (FME, FME3) and the New York Stock Exchange (FMS, FMS/P). More information can be found at: http://www.ultracare-dialysis.com .
Contact:
David Shapinsky
202-302-4904
dshapinsky(at)obassociates(dot)net
# # #