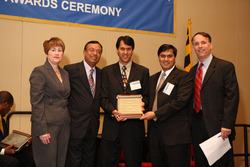 We are honored to be named as a top business in our community, and will continue to provide the best products and services for our customers.
Rockville, MD (PRWEB) November 6, 2007
Khera Communications Incorporated (KCI), an internet communications company which runs MailerMailer, DiscussThis and MoreBusiness.com, received the Economic Development Advancement Award for Montgomery County, MD on Tuesday, October 30, 2007.
Hosted by the county's Department of Economic Development and Workforce Investment Board, this award is presented to an individual or employer who has consistently made economic development and workforce development a priority.
Montgomery County Councilmember-at-Large Nancy Floreen comments, "It is people and organizations like (Khera Communications) that make Montgomery County the special place that it is to both live and work."
After graduating from the county's incubator program in 2003, KCI has since launched several new products and educational outreach efforts to the community. KCI also invests in quality workforce development. In addition to employing 18 people, half of which are in the Rockville headquarters, KCI hires and mentors local high school and university students, providing them with real world experience in a professional team to develop cutting edge web technology. KCI currently partners with the University of Maryland to create open source tools to help the web development community tackle sophisticated issues in presenting data over live feeds. The work accomplished by these projects has the potential to provide transformational results in the world's open-source community.
"We've realized the importance of working together with the community to accomplish big things," says KCI CEO Raj Khera. "As a graduate of both the county's incubator program, as well as the small business mentor-mentee program, I truly believe that the success of a company is a direct product of many hands, of community leaders, coming together to foster successful growth."
The selection criteria for the award included an assessment of how the company's workforce development program could be replicated. "Perhaps years down the road these students will also run successful companies and remember to extend their hand out to others in familiar shoes," comments Khera.
For now, Khera Communications will continue to live out their mission of "providing the most intuitive and robust do-it-yourself solutions for managing email newsletters, email marketing campaigns, and email discussion lists and groups at an affordable price." Khera comments, "We are honored to be named as a top business in our community, and will continue to provide the best products and services for our customers."
About Khera Communications:
Started in 1994 as a two person company, Khera Communications has grown to be an established business boasting 5 strong brands serving thousands of customers around the world. Khera Communications is a graduate from the Montgomery County incubator program and built several startups under the brand, including world-class email list serve management provider, MailerMailer; discussion group service provider, DiscussThis; and small business resource center, MoreBusiness.com.
###