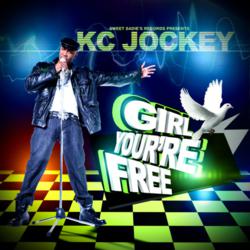 Miami, FL (PRWEB) October 02, 2012
Hip-hop artist KC Jockey has released the music video for his single "Girl You're Free." The video, directed by Yolande Geralds (director of videos for Usher, Omarion, and more), is available on YouTube. The concept behind the video is bringing to light to domestic violence.
KC Jockey was born in Kingston, Jamaica but moved to Brooklyn, New York as a young child. As he grew up, he focused on music as well as the Brooklyn street life. When his mother passed away in a tragic accident in 1997, Jockey decided to dedicate himself to the studio. It was during this time he worked hard to perfect his craft. In 2000, he launched his own record label, Sweet Sadie Productions, in honor of his mother.
With a style that mixes R&B and Dance Hall Reggae, Jockey is able to reach a wide variety of audiences. He has recently appeared in major motion pictures ("I Am Legend" with Will Smith and "American Gangster" with Denzel Washington), independent films, modeled with worldwide clothing line 4.U.2.N.V, served as an official spokesperson for the popular energy drink Xtamina, and more. Jockey has received attention not only for his singles, but also for his groundbreaking music videos. His videos have been featured on BET's "Uncut," Bet.com, Billboard.com, and more.
In 2012, Jockey received buzz in the U.S., his home country of Jamaica, and around the world. His singles have landed on charts in the U.S., France, Jamaica, and more. Jockey's versatile style has allowed his music to spread across multiple genres including, Hip-Hop, R&B, Reggae, and Latin music. Some of his most successful singles to date include "Runway Bounce," Talk of the Town," and "Rub Your Body."
Jockey also does charitable work. He works with schools to guide young students in Atlanta, volunteers at a school for the blind in Jamaica, and contributes to the Boys & Girls Club, an HIV hospice organziation, and school building efforts in Jamaica.
Jockey's recent singles "When U Look At Me" and "Single 4 One Night" are currently creating buzz in the music industry. "Girl You're Free" is the latest project by the KC Jockey. Keep up with updates by visiting his website.
About Coast 2 Coast Mixtapes
Coast 2 Coast Mixtapes are the most widely distributed mixtapes in the world, with over 100 million downloads/plays generated by over 200 volumes officially hosted by major artists. Coast 2 Coast has a solid reach in the new music industry with a digital magazine, DJ coalition, industry tips blog, yearly convention, and more. Coast 2 Coast Mixtapes represents a unique opportunity for artists of all urban genres, from major to indie. For more information, visit http://www.coast2coastmixtapes.com.
# # #