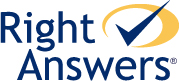 Edison, NJ (PRWEB) October 17, 2012
RightAnswers Inc., the #1 provider of knowledge management and self-service solutions, today announced the availability of a new archived Webinar titled, "Thinking About Knowledge-Centered Support (KCS)?" The Webinar originally aired on October 11, 2012 and provided an introduction of KCS and how support organizations can benefit from the methodology.
Enterprise growth and the failure of companies to embrace change could adversely affect productivity. As companies grow in size, offerings or complexity, demand for support will undoubtedly increase. How well companies manage their knowledge and use it to provide a good experience for support agents and internal end-users and customers will have a huge impact on the success of various business initiatives.
The leading best practice for knowledge management for service and support organizations is KCS, a business methodology that was developed and tested by members of the Consortium for Service Innovation™ (CSI).
In the 45-minute Webinar, Chris Gordano, Knowledge Practice Leader at RightAnswers, discussed how adoption of the KCS methodology can improve operational efficiency, customer satisfaction and overall employee morale at your organization.
In the recording, attendees will:

Develop an understanding of KCS and how it can benefit your organization
Receive an overview of KCS best practices to address resolving issues, answering questions and fulfilling requests
Discover the importance of knowledge management practices for your organization
As part of RightAnswers' Webinar series, "Thinking About Knowledge-Centered Support (KCS)?" is archived for on-demand viewing at: http://www.rightanswers.com/about-us-news-events-webcasts-archived.htm.
About RightAnswers
RightAnswers is the #1 provider of knowledge management and self-service solutions and delivers a cloud-based and/or on-premise enterprise knowledge management platform to optimize customer service and IT support operations. The company's flagship software – RightAnswers Unified Knowledge Platform – is utilized by hundreds of clients and millions of users around the globe, including commercial enterprises, higher education institutions and government agencies, to support the changes in their IT and businesses. For more information, please visit rightanswers.com, and follow us on LinkedIn, Twitter, Facebook, YouTube and our blog.