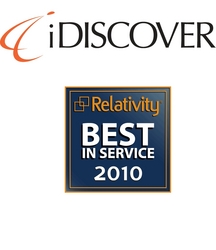 Our audit was thorough and the results indicated iDiscover is doing an excellent job delivering the benefits of the Relativity platform to its users" Andrew Sieja President and CEO of kCura
Sacramento, CA (PRWEB) May 14, 2010
iDiscover Global is pleased to announce its recent appointment as an elite member of the inaugural Relativity "Best in Service" partner program. The program recognized eleven companies who demonstrated the ability to consistently provide a high quality customer experience with the kCura Relativity e-discovery review platform.
To qualify for the program, applicants were required to demonstrate technical capabilities and sales performance, and deliver a list of strong customer references. "Our audit was thorough and the results indicated iDiscover is doing an excellent job delivering the benefits of the Relativity platform to its users," said Andrew Sieja, president and CEO of kCura.
kCura's rigorous qualification process encompassed a series of objective performance audits gathered over a substantial span of time. The results indicated iDiscover is uniqueily equipped to deliver high performance hosting and query speeds, and exception levels of user satisfaction. Given the expensive hourly rates attorneys command, iDiscover's ability to deliver high speed services equates to major savings of time and money for sizable legal cases.
iDiscover is further improving and extending its e-discovery services suite with Relativity Six e-discovery software. The new release provides enhanced speed, scalability, and innovations to end user functionality, such as Relativity Pivot, that give users greater insight into case data and accelerate the review process. Additionally, iDiscover clients now benefit from ECA services enabled by the combination of their proprietary e-discovery processing platform, Invariant, and Relativity Six.
About iDiscover Global, Inc.
iDiscover Global Inc. services legal firms and enterprises facing large and complex e-discovery challenges. The company offers robust support at each step in the electronic discovery process from initial collection to final production. Expertise coupled with customizable services and technology enables streamlined processes that provide accurate results faster and more cost-efficiently.
# # #