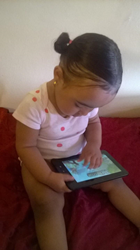 Our stories are personalized for one child, enhancing the reading experience, and making it fun all while holding their attention and interest for hours at a time
Monroe, New York (PRWEB) June 05, 2014
Kids are now very often enamored with their brightly lit screens. Whether it be the television screen, or the screen of a phone, tablet or other device, kids just can't seem to be coaxed away. Parents are now wondering when enough time in front of these screens is too much; however, it is apparent that parents that find themselves asking this question already have an answer, and that answer is "yes."
While the proliferation of devices and their known literacy benefits kids, time spent away from such devices is just as beneficial. A recent study by Jama Pediatrics says that time away from screens and digital media helps children's physical, social and behavioral health. The positive effects of spending time away from the screen and more time reading, being active and interacting face-to-face with family can even have a significant impact on academic as well as personal success. Telling kids to step away from the TV or tablet encourages them to balance their stimulation, which directly affects how they think, solve problems and interact with themselves and others. Just how much time should kids have screen time? According to the American Academy of Pediatrics, school-age children should spend no more than two hours a day engaged with entertainment media – TV, computers, tablets, smartphones and other electronic devices.
It can sometimes prove difficult to coax kids away from their beloved digital devices. Personalized activities are a great way to get their attention and keep their attention. Personalized books from KD Novelties a publisher of children's books, helps in keeping kids attention. "Our stories are personalized for one child, enhancing the reading experience, and making it fun all while holding their attention and interest for hours at a time," says Kim Delgado of KD Novelties. A personalized book is a great way to get kids interested in reading and soon hooked on the activity. When kids see themselves in the stories they read, their curiosity is piqued and helps introduce them to other reading material.
Other activities can be made just as personal. Invite kids to converse about their day at school with their parents around the dinner table. Cook kids' favorite meals with them. Even if kids help cook new meals, they are more likely to try the new dish if they have had a hand in making it. Playing their favorite games and activities or sharing personal stories are all great ways to get kids away from their digital devices for a while. Creating a screen time schedule also helps and allows children to figure how they plan to use their screen time during their allotted time.
For more helpful information about this and resources, visit the KD Novelties Blog.