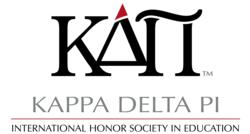 As far back as 1911, KDP established beliefs regarding teaching and learning that are evident in the current standards efforts.
Indianapolis, IN (PRWEB) December 20, 2012
The Kappa Delta Pi (KDP) Public Policy Committee, formed two years ago to encourage inquiry and reflection on significant educational issues, recently launched KDP Reasoned VOICE, a series of objective, research-based position papers for educators and interested stakeholders to reference when advocating an educational stance. The second edition of KDP Reasoned VOICE, written by Teacher Education Professors Nathan Bond and Raymond J. Dagenais, addresses the topic of Common Core Standards. The paper provides a summary of related current events, key background information, diverse expert opinions, and further reading suggestions.
With the advent of the accountability movement, increasing attention has been focused on content standards, student achievement, and teacher effectiveness. The state-led effort by governors and state commissioners in 2009 that resulted in the Common Core State Standards Initiative (CCSSI) has been widely adopted and implemented nationally. Yet, what this means for today's educators is a highly controversial question that is of utmost importance.
The authors present expert opinions both in support of the Common Core Standards, citing the 2012 article "From Common Core Standards to Curriculum: Five Big Ideas" by J. McTighe and G. Wiggins, and those by other education experts, including Diane Ravitch, Stephen Krashen, Education Week founder Ronald A. Wolk, and Alfie Kohn who remain skeptical, arguing a lack of evidence about the standards' effectiveness. KDP's view on Common Core: "Future efforts may look like a tapestry woven from fundamental beliefs and experiential applications of standards expectations." One of the first tasks of the KDP Public Policy and Advocacy Committee was to craft a set of public policy statements that reflect the long-standing foundational beliefs of KDP, which seem to align with the current focus on the expectations and standards in education. As Drs. Bond and Dagenais point out, "It is interesting to consider the origins of the current work. As far back as 1911, KDP established beliefs regarding teaching and learning that are evident in the current standards efforts."
The mission of KDP's Public Policy Committee is to create a forum to communicate and exchange educational policy issues that advance the field of education in a reflective manner in order to sustain professional opportunities, advancement, and growth for educators, and success for students. In accordance with this mission, the committee has established these priorities: teacher preparation, teacher quality, resources and support, and student achievement.
To comment on this position paper or get involved with the public policy discussion, please visit KDP's Public Policy website at http://www.kdp.org/aboutkdp/publicpolicy.php. For more information about Kappa Delta Pi, visit http://www.KDP.org or call KDP Headquarters at 800-284-3167.
Kappa Delta Pi, International Honor Society in Education, is a 501 (c) (3) organization established in 1911 to recognize and promote excellence in education, provide a reasoned voice for significant issues, and link learning communities of educators. Through its programs, services, and strategic partnerships, KDP supports the professional growth and teaching practices of educators throughout all phases and levels of their careers. The organization currently has more than 600 chapters and an active membership of 43,000 worldwide.