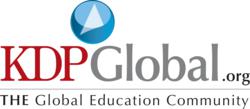 Kappa Delta Pi is passionate about connecting the education community. We are excited to provide this secure online community where members can share resources and innovative ideas. –Faye Snodgress CAE, KDP Executive Director
Indianapolis, IN (PRWEB) April 30, 2013
Kappa Delta Pi (KDP) has announced the launch of KDPGlobal.org, its new online community, to provide a new dimension of private and professional social networking to its members, and to connect the education community nationally and globally. Users are able to share documents with their communities, have discussions, read and blog about trending news in education, access exclusive resources, and connect with peers and colleagues. Networking is considered a primary benefit of most member organizations. KDPGlobal.org, powered by the Higher Logic Connected Community™ platform, now extends members and other KDP users a virtual place to meet, network, and build relationships with like-minded individuals.
By introducing KDPGlobal.org, KDP adapts to the next generation of information exchanges and social networking opportunities for its members and constituents. "Kappa Delta Pi is passionate about connecting the education community," says KDP Executive Director Faye Snodgress. "We continually strive to fulfill our role as a leader in the field of education. KDP is excited to provide this secure online community where members can share resources and innovative ideas." Evolving technology and web usage have presented organizations with the opportunity to expand their relevance and value by establishing themselves as the hub of activity and interaction for their industry. With a comprehensive approach to member engagement, KDP hopes to add significant value to its constituents.
The content at KDPGlobal.org is dynamic and driven by the users' activity occurring within the community. One of the favorite features of the online community is the "Most Active Members" section, which is generated by the site based on activity. The center of the community landing page features "Latest Discussions" and "Shared Files," which are conversations and documents that members are sharing within the site. KDPGlobal.org community members can customize their "My Profile" settings and decide how much they want to make visible to different groups within the community, and profile information can be imported directly from LinkedIn. Members also can find and connect directly with other members or KDP users through the "Member Directory" that is searchable within the community. The "Community" section is the essential component of the site. Communities are sub groups of users who share a common interest. The "Resource Library" is made up of all of the files shared by members within each community. When users share a document or file, they are able to "Tag It" by category or topic. Community activities include the "Daily Digest," which delivers the latest discussions, file sharing, and announcements to email inboxes. Members and other KDP users are encouraged to browse the "Communities" tab for all the groups they are eligible to join. Current "Groups" in KDPGlobal.org include the "KDP Members Group," a general group for all KDP members in the community; "KDP Resources Community," a place to engage with KDP webinar presenters and journal authors; and "Ask the Experts," a place to learn from the experts in five main topic areas: Multiculturalism, Common Core, Classroom Management, Public Policy, and Getting Prepared: Résumés, Job Search, Interviewing, and First Jobs. The "State Communities" will allow users to interact with their respective State Delegate and network with other community members from their own state.
Higher Logic is exclusively focused on developing collaborative software applications for associations and nonprofits, providing them with innovative ways to increase social networking and online media opportunities that allow members and constituents to come together and build trusted communities. Higher Logic's Connected Community™ software suite enables nonprofits to effectively manage the increasing complexity of today's communication needs while taking advantage of the social web. All of the modules within the Connected Community™ software suite are browser independent, have been developed using Microsoft.NET technology, and offer pre-built integrations to more than 30 leading association management systems. Headquartered in Arlington, Virginia, Higher Logic is an expert in Web 2.0 products and services. The purpose of Connected Community™ is to provide a platform that allows members to connect and think together. http://www.higherlogic.com/
For more information about Kappa Delta Pi and KDPGlobal.org, visit http://www.KDP.org and http://www.KDPGlobal.org or call KDP Headquarters at 800-284-3167.
Kappa Delta Pi, International Honor Society in Education, is a 501 (c) (3) organization established in 1911 to recognize and promote excellence in education, provide a reasoned voice for significant issues, and link learning communities of educators. Through its programs, services, and strategic partnerships, KDP supports the professional growth and teaching practices of educators throughout all phases and levels of their careers. The organization currently has more than 600 chapters and an active membership of 43,000 worldwide.