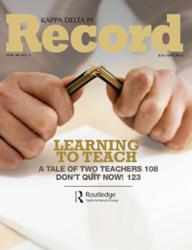 Even to a non-education-oriented reader, they've made the profession understandable and interesting.
Indianapolis, IN (PRWEB) January 30, 2013
The Kappa Delta Pi Record has been honored with a Silver Award in the "Annual or Quarterly Magazine or Journal" category of the Association TRENDS 2012 All-Media Contest. It was one of more than 420 entries in the association publications contest. Kappa Delta Pi will be recognized at the 34th Annual Salute to Association Excellence, to be held February 15, 2013 at the Capital Hilton in Washington, DC. The winning entry will be on display at the event, along with the other winners. As well as being honored at the Salute to Association Excellence, this year's All-Media Contest winners will be featured in the January issue of TRENDS, and online.
"The Kappa Delta Pi Record, like the association that produces it, is dedicated to pursuing excellence in the field of education," said Managing Editor Kathie-Jo Arnoff. "We are proud to be able to offer timely, relevant articles that keep educators informed and offer them research-based strategies they can apply right away. We are thankful for the contributions of Academic Editor Christopher H. Tienken, Assistant Professor at Seton Hall University's College of Education and Human Services, and members of our Editorial Review Panel."
The Kappa Delta Pi Record is a peer-reviewed journal that presents research-based articles on compelling issues relevant to national and international education professionals who work and teach at all levels and in a wide range of disciplines and settings. The Kappa Delta Pi Record promotes professional growth in the field of education by providing articles on evidence-based teaching strategies, reviews of current policy initiatives, examples of applied theories, and reports of original research in language that is accessible and practical.
The TRENDS All Media Contest is an annual competition held exclusively for associations, recognizing the most creative and effective communication vehicles developed in the industry over the prior year. The 2012 competition included 22 categories of association communications. One of the judges praised the KDP publication and commented, "Even to a non-education-oriented reader, they've made the profession understandable and interesting. I really appreciate the straightforward layout, too – journal–esque in feel, magazine-pleasing to the eye. The essay in the "Page 22″ column was compelling copy, for sure."
Association TRENDS is the national newspaper for association executives and suppliers, spotlighting the latest news, information, and trends in association management for the professional staff of international, national, state, regional, and local voluntary organizations. See Association TRENDS for more industry analysis and news.
For more information about Kappa Delta Pi, visit http://www.KDP.org or call KDP Headquarters at 800-284-3167.
Kappa Delta Pi, International Honor Society in Education, is a 501 (c) (3) organization established in 1911 to recognize and promote excellence in education, provide a reasoned voice for significant issues, and link learning communities of educators. Through its programs, services, and strategic partnerships, KDP supports the professional growth and teaching practices of educators throughout all phases and levels of their careers. The organization currently has more than 600 chapters and an active membership of 43,000 worldwide.