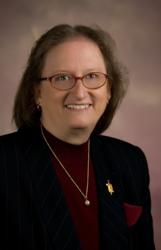 Teachers are essential, both as providers of knowledge and as caregivers to students. Teaching today is simply too important a job to do alone, and all teachers need a support network to be successful. KDP is that network.
Indianapolis, IN (PRWEB) July 30, 2012
On July 1, Dr. Mary C. Clement assumed the position of International President, Kappa Delta Pi Executive Council, for the 2012–2014 term. Dr. Clement, a member of the Council since 2008, most recently served as President-Elect. She is Professor of Education and Director of the Center of Teaching Excellence at Berry College, north of Atlanta, GA. Every two years, members of Kappa Delta Pi, International Honor Society in Education, elect officers for the KDP legislative body, Executive Council. These membership representatives guide the strategic vision and initiatives for the international association and oversee its financial resources.
Dr. Clement has focused much of her research and academic efforts on the hiring and induction of new teachers. A prolific author, her work has resulted in ten books and more than one hundred articles and other publications. Among her books are two published by KDP: The ABC's of Job-Hunting for Teachers (1st and 2nd editions) and The Induction Connection (with coauthor Dr. Elizabeth Wilkins). She has served the Society as the first academic editor of the New Teacher Advocate and an editorial reviewer for the Kappa Delta Pi Record. International education is another area of interest for Dr. Clement. She has participated on the KDP International Committee, traveled extensively, worked for People-to-People and Rotary Youth Exchange, and sits on the Board of Consortium for Overseas Student Teaching (COST). Dr. Clement earned her doctorate from the University of Illinois at Urbana-Champaign.
By virtue of offices already held, Dr. Nathan Bond (Texas State University) will assume the office of Past-President. Other elected Council members for the 2012–2014 KDP Executive Council are Dr. Susan Trostle Brand, President-Elect (University of Rhode Island); Dr. Laurie J. DeRosa, Vice-President (Fitchburg State University); Dr. Elizabeth A. Wilkins, Vice-President (Northern Illinois University); Zachary J. Schroeder, Student Representative (Purdue University); Keon T. Ruiter, Professional Representative (Ware, MA Public School System); and Tara L. Drexler, Member-at-Large (Twin Falls School District). Also invited to serve is Dr. Sonia Nieto, Laureate Representative (University of Massachusetts).
For more information about KDP and 2012–2014 Executive Council, visit http://www.kdp.org or call 800.284.3167.
Kappa Delta Pi, International Honor Society in Education, is a 501 (c) (3) organization established in 1911 to recognize and promote excellence in education, provide a reasoned voice for significant issues, and link learning communities of educators. Through its programs, services, and strategic partnerships, KDP supports the professional growth and teaching practices of educators throughout all phases and levels of their careers. The organization currently has more than 600 chapters and an active membership of 43,000 worldwide.