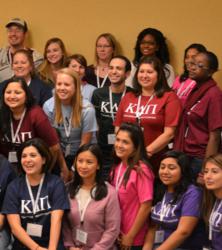 The 'other curriculum' can indeed have a profound impact in shaping tomorrow's leaders.
Indianapolis, IN (PRWEB) November 30, 2012
A research article by Dr. William L. Sterrett and Dr. Nathan Bond, titled Embracing the Leadership Challenge: Leading by Service in the "Other Curriculum" and published in the E-Journal of Organizational Learning and Leadership (Vol. 10, No. 2, Fall/Winter 2012), concludes that leadership experiences available for college students through service opportunities outside of their prescribed coursework help prepare them for their future roles as educators. The study provides perspective from a representative sample of student officers who are serving as leaders in high-functioning Kappa Delta Pi (KDP) chapters at their academic institutions. Participants in the study offered insights into their leadership learning experience and shared their views on the benefits and challenges of leadership. A diverse group of institutions within the United States is represented in the study. The findings describe lessons learned and suggest ways that colleges and universities can prepare future teacher leaders through extracurricular service opportunities during their collegiate experience.
As Drs. Sterrett and Bond point out, "The 'other curriculum' can indeed have a profound impact in shaping tomorrow's leaders." Providing the outline for their study on the student leader perspective in terms of leadership development, leadership practice, and professional growth, as well as challenges and successes, are the five practices of exemplary leadership suggested by J. M. Kouzes and B. Z. Posner, authors of The Leadership Challenge (2012). These include: model the way; inspire a shared vision; challenge the process; enable others to act; and encourage the heart. The study suggests that the skill sets learned and refined by these student officers during their leadership experiences not only impacted the success of their chapters, but also prepared them for their future vocation as educational leaders. "By learning—and leading—they are acquiring the necessary skill sets to embrace the leadership challenges facing today's educators," Drs. Sterrett and Bond conclude.
Dr. William L. Sterrett is Assistant Professor in the Watson School of Education at the University of North Carolina Wilmington. He served as a principal from 2006–2010 in Charlottesville, Virginia, and previously as an assistant principal, upper elementary teacher, and middle school science teacher. Sterrett was a 2008 recipient of the Milken National Educator Award. He currently chairs the KDP Public Policy Committee that was established in 2010. He may be contacted at sterrettw(at)uncw(dot)edu.
Dr. Nathan Bond is Associate Professor of Curriculum and Instruction at Texas State University–San Marcos, where he has also served for more than a decade as Faculty Counselor to the university's Eta Zeta Chapter of KDP. Under his leadership, that chapter received the Achieving Chapter Excellence Award at the KDP Biennial Convocation in 2007, 2009, and again in 2011. Dr. Bond, who was International President of the association for the 2010–2012 biennium, currently serves as Past-President on the organization's highest governing body and also is a member of the KDP Public Policy Committee. He may be contacted at nathanbond(at)txstate(dot)edu.
The E-Journal of Organizational Learning and Leadership is published on a biannual basis and available online at http://www.leadingtoday.org/weleadinlearning. The research article can be accessed at http://www.leadingtoday.org/weleadinlearning/Winter2012/Article%203%20-%20Sterrett%20and%20Bond.pdf.
To learn more about Kappa Delta Pi, visit http://www.KDP.org or call KDP Headquarters at 800-284-3167.
Kappa Delta Pi, International Honor Society in Education, is a 501 (c) (3) organization established in 1911 to recognize and promote excellence in education, provide a reasoned voice for significant issues, and link learning communities of educators. Through its programs, services, and strategic partnerships, KDP supports the professional growth and teaching practices of educators throughout all phases and levels of their careers. The organization currently has more than 600 chapters and an active membership of 43,000 worldwide.