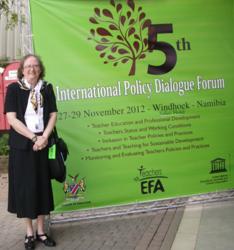 Poverty affects every aspect of schooling, yet education remains the way to get people out of their circumstances.
Indianapolis, IN (PRWEB) January 31, 2013
Representing Kappa Delta Pi (KDP), Dr. Mary C. Clement participated in the United Nations Educational, Scientific, and Cultural Organization's (UNESCO) 5th Policy Dialogue Forum of the International Task Force on Teachers for Education for All, held November 27–29, 2012, in Windhoek, Namibia. Dr. Clement, currently KDP international president and a professor of teacher education at Berry College in Georgia, attended the forum as an invited guest and breakout session speaker. In part, the invitation came as a result of KDP's role (since 2010) as a non-governmental organization (NGO) affiliate of the United Nations.
Though nearly half of the participants were Namibian educators, the 300 attendees at the forum represented 46 countries. With such diversity, the topics discussed were surprisingly common to all who work in education around the world. The major issues of the forum included teacher education and professional development, teachers' status and working conditions, inclusion of all students, education for sustainable development (ESD), and teacher evaluation.
In Dr. Clement's session, titled "The Role of Professional Teacher Organizations in Disseminating Information about Education for Sustainable Development," she shared strategies for how teachers can network to support one another with regard to topics such as curricular change and how to incorporate ESD in the classroom. "Infusing sustainability for the environment, the economy, and society into the curriculum is indeed a timely goal," stated Dr. Clement, who told forum participants about KDP's international initiatives, which include a focus on ESD.
Reflecting on her trip to Namibia, Dr. Clement commented, "All nations strive to provide the best possible education to their students, but certain challenges can seem insurmountable. Poverty affects every aspect of schooling, yet education remains the way to get people out of their circumstances."
For more information about Kappa Delta Pi, visit http://www.KDP.org or call KDP Headquarters at 800-284-3167.
Kappa Delta Pi, International Honor Society in Education, is a 501 (c) (3) organization established in 1911 to recognize and promote excellence in education, provide a reasoned voice for significant issues, and link learning communities of educators. Through its programs, services, and strategic partnerships, KDP supports the professional growth and teaching practices of educators throughout all phases and levels of their careers. The organization currently has more than 600 chapters and an active membership of 43,000 worldwide.