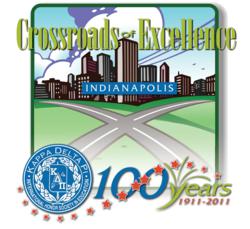 "Throughout its 100 years of supporting education, Kappa Delta Pi has been an unwavering voice in pursuit of excellence." Dr. Nathan Bond, KDP Executive Council President
Indianapolis, IN (PRWEB) September 23, 2011
Kappa Delta Pi, International Honor Society in Education, will host its 48th Biennial Convocation, themed Crossroads of Excellence, this fall in Indianapolis, Indiana, the city known for its racetracks and intersecting highways. Educators from across the globe at all levels and disciplines will have the opportunity to network, attend their choice of 200-plus workshops on emerging educational topics, and be inspired by distinguished speakers. Convocation 2011, culminating the Society's Centennial Celebration, is where passion for teaching meets the drive toward continued excellence in education.
Keynote speakers are The New York Times best-selling author and illustrator Peter H. Reynolds; author and educator Debbie Silver; and writer, teacher, and lifelong humanist Jason Ohler. The KDP Laureate Panel features top scholars Marilyn Cochran-Smith, Gloria Ladson-Billings, Ann Lieberman, and Deborah Meier. Michelle Shearer, 2011 National Teacher of the Year, speaks at the closing banquet. The conference experience kicks off with inspiring pre-Convo sessions at world-class venues such as The Children's Museum and Indianapolis Museum of Art. The peer-reviewed workshops focus on three themes: research and best practices, passages to global and 21st century skills, and portals to innovation and collaboration. Attendees have the opportunity to meet distinguished scholars, researchers, and faculty representatives from hundreds of colleges and universities in attendance.
Full-pass advance registrations for the three-day conference are $259 for students/retirees, $279 for KDP members, and $319 for nonmembers. On-site registrations are available for $289, $309, and $349, respectively. K–12 educators and administrators can purchase a special one-day Professional Pass for Saturday, November 5, from 8 a.m.–5 p.m. at an advance registration rate of $50, or $75 on-site.
For more information about the conference and to register, visit http://www.kdp.org or call 800.284.3167.
Kappa Delta Pi, International Honor Society in Education, is a not-for-profit organization headquartered in Indianapolis, Indiana that supports the professional growth and teaching practices of educators throughout the world. For 100 years, the Society has recognized excellence in education, advanced professional development, provided a reasoned voice for significant issues, and linked learning communities of educators.
# # #