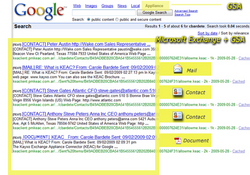 With KEAC take advantage of the corporate search power of the GSA and selectively unlocks the content stored in Microsoft Exchange.
Miami, FL (PRWEB) February 2, 2010
Kayxo Launches New Release of Kayxo Exchange Appliance Connector (KEAC) 1.2. KEAC extends the GSA, enabling users to search for emails, contacts, appointments, tasks, notes and documents stored in Microsoft Exchange mailboxes and public folders, according to each item's security.
This search feature takes advantage of the corporate search power of the Google Search Appliance and selectively unlocks the content stored in Microsoft Exchange.
Since Kayxo Exchange Appliance Connector uses MAPI (the same protocol Microsoft Outlook uses to communicate with Microsoft Exchange), all the objects and their information are available to be retrieved on demand, using the fastest access method to the Microsoft Exchange Server and bringing a complete set of information not accessible through other methods (CDO, WebDav, Microsoft Exchange 2007 Web Services). This also allows KEAC to access your company's information without the need of installing any agent on the Microsoft Exchange Server or duplicating data into a second "searchable" repository.
Key benefits

Support Public Folders allowing users to share any type of documents easily.
Mash information already available from ECM systems, CRMs and others with information in Exchange in a single search, ranked according to Google relevance criteria.
Share communication information within the company and make it available seamlessly to the right people. It doesn't matter if the document the user is searching is stored in SharePoint, the CRM, the ECM system or lost in an e-mail: it will be found through a single search.
Honor the Microsoft Exchange's sharing policies or other Company policies. This means: only if you have permission to see it you will find it through the Google Search Appliance. If you don't have permission to see it, it will not appear in search results.
Increase the value of the investment made in the Enterprise Search Platform.
What's new in Kayxo Exchange Appliance Connector 1.2:

Support for Public Folders: easy and effective way to collect, organize and share information.
Dynamic subfolders discovery: synchronizes automatically new subfolders and its items, inheriting the parent settings.
New features available on Configuration Consoles: several improvements were implemented making easier to use it.
Filter option: Reducing the amount of GSA licenses used, allowing to the users to configure a period of time to restrict the objects uploaded to GSA.
Support for Microsoft SQL 2008.
Download KEAC 30-DAYS FREE TRIAL
View More about KEAC at KEAC for Google Search Appliance
View More About Kayxo at Kayxo Website
Media Contact
Ariel Di Stefano - VP of Marketing and Product Management
54-11-5171-5500
###