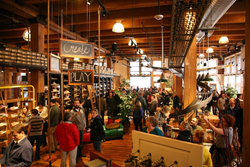 How many other companies house their headquarters, retail space and a manufacturing facility all in one city? At KEEN, we do things differently.
Portland, OR (PRWEB) December 18, 2012
KEEN has moved and reopened its KEEN Garage PDX to the first floor of is new headquarters located at 505 NW 13th Avenue. The oversized glass pane garage doors facing Glisan Street lifted open to unveil the 4000-square-foot retail space, Wednesday, Dec. 12, at 12:12 p.m. The store houses more than 300 styles of KEEN footwear, bags and socks.
The Garage, named to show how the space is considered an extension of the KEEN home headquarters, is filled with playful elements of discovery to spark curiosity and exploration. Many of its interactive design features were crafted from locally harvested materials. For example, the base of the counter of cash registers is wrapped in outsoles from its Portland Factory. It sits below a suspended tent-like roof of sculpted Oregon street signs.
KEEN purchased the five-story, 50,000-square-foot building in February 2012 for its global headquarters demonstrating the company's loyal, long-term commitment to building its business in the heart of Portland, Oregon. After renovating the 105 year-old building and generating less than one dumpster full of waste, the company moved its operations into the top four floors of the space in October. The opening of the KEEN Garage signifies the last phase of the momentous move by the almost 10-year-old brand.
The Garage offers an inviting, inclusive retail space where friends and families can gather to get outfitted for their next adventure, and get inspired about their next trail to hike, beach to comb, river to run, and mountain to explore. It sits alongside the company's great room which serves an employee gathering space and a place for KEEN non-profit partners to come together. Additionally, the retail space will continue to serve as a valuable retail test grounds and a way for KEEN to interact directly with consumers on a daily basis receiving product feedback, testing retail designs and refining marketing programs.
"The KEEN Garage is a place for current and future KEEN fans to gather and experience the KEEN brand in its entirety," said Christa DePoe, VP of global online & retail. "Fans are exposed to the entire KEEN product line in this space, and are encouraged to share their KEEN stories with our store staff. Our philosophy is that more we engage directly with our fans, the better we can be."
Measuring 4,000 square feet with 2,700 of that selling space, the Garage is almost four times the size of the original KEEN Garage that opened in August 2010, just below the former KEEN offices, which the company rented. The ability to own versus rent has enabled the company to infuse the "KEEN Factor" into its retail space as well as its offices. The company strived to maintain the integrity of the original building and neighborhood, while incorporating repurposed elements wherever possible to reflect the brand story.
Store design features include a playful gravity chute. KEEN Garage team members can use this shoe slide to whoosh shoe boxes down from the mezzanine stockroom to the cash register where the awaiting customers can catch them.
One of the doors between the KEEN offices and KEEN Garage is a sliding wooden door made from wood discovered in a dilapidated barn in Corvallis. There is also a table made from an old bowling alley complete with shoes arranged like bowling pins at the end. Customers can crank a wheel to make the shoes move up and down.
KEEN constructed the displays for its Utility boots, its industrial line for construction workers, out of recovered scaffolding. There is a sock rack which has handles that act a little like the old Rock 'em Sock 'em Robot game.
The kids area is inspired by a playground and incorporates seating like swings and a shoe display like monkey bars. Plus the infamous shoe rotisseries from the old store are back with an improved design and the old Coquille, OR High School bleachers have a space in this new home. Many of the items in the store were harvested from various places in the Northwest, which otherwise would have ended up as scrap or in the landfill.
KEEN Garage employees were dispatched to scout and scrounge various places for discarded materials that could be used in the store. "Designing this store with these materials has been like putting together a living, breathing KEEN jigsaw puzzle," explained DePoe.
The KEEN Garage is open:
Monday - Friday 10am - 7pm (PST)
Saturday 10am - 6pm (PST)
Sunday 11am - 5pm (PST)
971.200.4040
There are two other KEEN Garages located in Tokyo and Toronto. DePoe said, "We consider these detached garages. They are just as much an extension of our office and our brand as this Garage is."
In addition to the headquarters and retail space, KEEN also operates the KEEN Factory on Swan Island in North Portland located less than five miles from the KEEN headquarters and Garage.
"As we prepare for our 10th birthday, we are deeply committed to strengthening our foothold and continuing to build our business here in Portland," said Christa DePoe VP of global online & retail. "How many other companies house their headquarters, retail space and a manufacturing facility all in one city? At KEEN, we do things differently. We invite you to come to the Garage and see for yourself."
About KEEN
KEEN, Inc. manufactures hybrid outdoor and casual products, including footwear, bags and socks. Founded in 2003 with the launch of the Newport sandal known for its patented toe protection technology, KEEN creates innovative and comfortable products that transition seamlessly from work to play, and enables people to pursue a Hybrid lifestyle: create, play and care. Through its Hybrid.Care giving program, KEEN supports social and environmental organizations around the world. The company recently launched the KEEN Recess Revolution, encouraging adults to take 10-minute outdoor "Recess" breaks every day to re-energize at work and be healthier and happier. Named one of "America's Best Places to Work" by Outside magazine, KEEN is headquartered in Portland, Ore. KEEN products are available in more than 5,000 retail locations in 60 countries. Learn more about KEEN at keenfootwear.com, Facebook and Twitter. To discover KEEN recess, visit recess.keenfootwear.com.