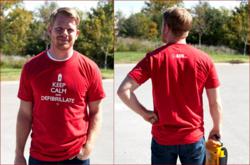 Keep Calm and Defibrillate
(PRWEB) October 11, 2012
AED.com actively promotes CPR and AED Awareness to as many people as they can reach. Keeping true to their recent social media focus, AED.com created a new T-shirt design available for purchase from the Website. The t-shirt, which reads "Keep Calm and Defibrillate," not only plays off the Queen of England's famous quote but also give valuable advice in a rescue situation. It is important that a rescuer, professional or bystander, remain as calm as possible in a life or death situation. Keeping calm and remembering the following steps can help make a difference.
Step 1 - When someone is in SCA, he or she suddenly loses consciousness, normal breathing stops, and there are no signs of life.
Step 2 - Decide to help.
Step 3 - Call 9-1-1
Step 4 - If an automated external defibrillator (AED) is immediately available either you or someone use it.
Step 5 - If no AED, start CPR.
SCA (sudden cardiac arrest) strikes over 350,000 people in the United States every year. The only thing that will potentially save those included in this staggering statistic is a defibrillator. AED.com's mission is spread awareness about Sudden Cardiac Arrest and the importance of quick access to an AED.
To help spread awareness please visit the AED.com Facebook page and join the conversation. AED.com constantly takes part in helping to spread news, stories, and successes throughout its community and the nation.
AED.com is headquartered in Brentwood, TN. AED.com's parent company, DXE Medical Inc. was founded in 1999 and provides services to over 20,000 customers in all 50 U.S. states and 35 countries worldwide. For more information, please visit: http://www.aed.com/