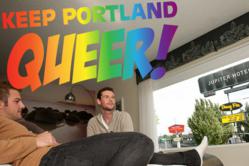 Portland, OR (PRWEB) March 15, 2012
This month the Jupiter Hotel continues welcoming travelers from all walks of life with a new room package, Keep Portland Queer. By focusing on the LGBTQ community, which has always been a pillar of support for the property, the Jupiter aims to provide tools that invite guests to come as they are for a comfortable travel experience.
While the place to rest your head comes standard, this special package encourages Jupiter Hotel visitors to bask in all that Keeps Portland Queer with an LGBT Travel Portland brochure, as well as complimentary goodies including Out City and PQ Monthly magazines, Voodoo Doughnuts, a gift card to Fantasy Adult Superstore and a bottle of Barefoot Bubbly Pink Moscato, with ten percent of the proceeds from the package donated to the PDX Q Center,.
The Keep Portland Queer Room Special Includes:
An overnight stay – Stay the night in one of Jupiter Hotel's unconventional rooms, complete with a queen-sized bed, wall murals, chalkboard doors and green amenities.
Complimentary copies of Out City and PQ Monthly – Local LGBT publications with community news and happenings in and around the Pacific Northwest.
A Travel Portland LGBT brochure – A comprehensive guide to the local hangouts, sights and offerings of hip PDX.
A Fantasy Adult Superstore gift certificate – $10 to purchase anything that may tickle your fancy.
Voodoo Doughnut $10 gift certificate – Voodoo Doughnut is the epitome of Portland weirdness, and they're delicious. Guests receive a $10.00 gift certificate to experience Portland's famous doughnuts.
Overnight Parking – The Jupiter Hotel provides Keep Portland Queer guests on-site parking to stash their cars during their adventure.
Additionally, the package will return ten percent of the proceeds to the PDX Q Center, encouraging a symbiotic relationship with local LGBTQ partners and beneficiaries. With national notoriety from Portlandia and a quirky reputation from Keep Portland Weird, this new program continues the Jupiter Hotel's efforts to provide unique services that speak to the community it actively supports.
The Jupiter Hotel has partnered with a host of unique Portland businesses for this special offer, each of which will provide support for events through August:
Travel Portland
IGLTA
Out City
PQ Monthly
Compete Magazine
Barefoot Wine
The PDX Q Center
The NOH8 Campaign
PABA
TAG Approved
Pink Banana Media
The Keep Portland Queer package can be viewed online or booked here : http://bit.ly/KeepPortlandQueer
For more information concerning the Keep Portland Queer room special or the Jupiter Hotel, please contact Shannon Pratuch at shannon(at)jupiterhotel(dot)com or 503-477-7155.