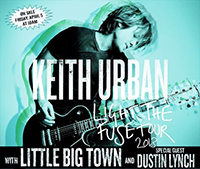 Fans should lock in Keith Urban Tour Tickets now for the best seats at eCityTickets.
(PRWEB) April 05, 2013
Keith Urban Tour tickets have been in high demand for the dates already scheduled for the first leg of the 2013 Light the Fuse Tour. Today, Keith Urban tickets are available for all second leg tour dates. Keith will have Little Big Town and Dustin Lynch as special guests on the tour. Keith's first leg of the tour kicks off on July 18th at the Riverbend Music Center in Cincinnati, OH and concludes on October 5th, after 28 outdoor shows including his first concert at the famed Hollywood Bowl in Los Angeles, CA. The second leg gets underway at CenturyLink Center in Omaha, NE leading to 17 arena shows that will conclude at KFC Yum! Center in Louisville, KY on December 8th. Fans can expect new music from Keith Urban, expected out this spring, as well as an all-new electrifying concert production.
The four time Grammy Award winner has a lot on his plate in 2013. The first part of the year, Keith is an American Idol Judge through the finale May 16th. Starting May 2nd, Keith Urban is scheduled to perform at select Country Megaticket concerts across North America. Then the 2013 Light The Fuse Tour will start up on July 18th and not end until the last concert on December 8th. That is a full schedule in anyone's book. The 2013 Keith Urban Tour will be the ninth official tour of this Australian raised country singer.
Fresh off their 2013 Tornado Tour, Little Big Town will accompany Keith Urban for the entire tour. Little Big Town is best known for the award winning song "Pontoon" and their newest success, "Tornado". The band has had the same four members since forming in 1999. Little Big Town have 14 songs hit the Billboard Hot Country Songs charts. Justin Lynch will be a special guest on the Keith Urban Tour. He is known for such hits as "Cowboys and Angels" and "She Cranks My Tractor".
Keith Urban tickets are officially on sale today and fans should lock in their desired seats and ticket packages immediately. Limited VIP and Fan packages are only available at some venues. Of course eCity Tickets has great seats in every price range. As one of the leaders in secondary ticket sales, eCityTickets.com offers great seats with budget friendly prices and selection for the savvy fan. Get your Keith Urban Tour tickets today and don't miss this great 2013 concert event.