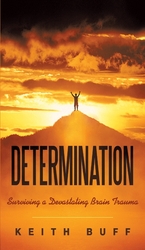 I never saw it coming. In an infinitesimal tick of time my life changed forever.
Monmouth, NJ (Vocus) November 11, 2010
"I never saw it coming. In an infinitesimal tick of time my life changed forever." With these words, Keith Buff takes readers into his life as he fought his way to recovery after a devastating brain hemorrhage in his new memoir, Determination: Surviving a Devastating Brian Trauma (published by iUniverse).
At any moment a life can change forever. For Buff, that moment was when he was struck with an arteriovenous malformation (AVM) caused by a weakness in the blood vessels, which in their turn impacted the parts of Buff's brain responsible for balance and coordination. A prosperous and athletic young man with a devoted wife and three children, Buff was dealt a devastating blow and given only a 10 percent chance of survival.
Alternating between stories of his past, his childhood, the traumatic event of his AVM and the long, difficult recovery process, Buff paints a picture of a man who has not taken his life for granted. Surrounded by his loved ones and with the support of a seeming nation of friends, Buff recounts his wild days as a skateboarder and surfer alongside the many hard-fought gains he made as a survivor. His life interrupted, unable to talk or even swallow, Buff made the tasking journey to recovery through the help of prayers, medical technology and an insurmountable will to live.
Dramatic and ultimately uplifting, Determination will serve as a reminder to keep struggling against the odds.
About the Author:
Keith Buff was born in Neptune, N.J. He was 36 years old when struck down by an AVM. His story and half of the proceeds from Determination go towards helping others in need. Readers can visit buffcharities.com to find out more.
iUniverse is a premier book publisher for emerging, self-published authors. For more information, please visit iuniverse.com.
###