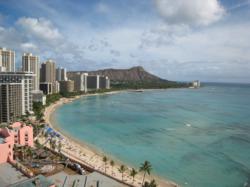 This contest is to find someone with a great story about a challenge they've experienced in their lives and how they've triumphed over their challenge.
Kailua, Hawaii (PRWEB) July 07, 2011
Keith Cronin believes giving away a free trip to Hawaii to a deserving family could help shape their beliefs and reinforce what's good in the world.
The idea of paying it forward came to Keith one day. He had just sold his car and wanted to do something positive with the money. Keith like the majority of us have bills and responsibilities, but wanted to use the money from the car to help one of the many families feeling stuck today, whether it is in their employment situation or virtually anything.
It was the idea of paying it forward and helping others, that has evoked this trip. Hopefully others decide to do the same thing, or help others out by volunteering, coaching, or even something little like helping an elderly person cross the street. Pick a cause and take action.
Contest Details
Think Extreme Makeover Home Edition meets American Idol. Throw in social media with things like Facebook , Twitter, LinkedIn, and YouTube and there is an incredible opportunity to use technology to spread more than a little aloha, but a shift in psychology.
The combination of people voting for themselves and others, in a video format, to win a trip to Hawaii will be great. Judges will whittle down the finalists as well as viewers will get to have a voice and vote for their favorite.
People interested in learning more about the contest can find the win the trip to Hawaii on Facebook by typing in the search box- 'Win the trip to Hawaii' or http://www.winthetriptohawaii.com for more information."
Why Hawaii
Living in Hawaii over the past 13 years has infused Keith Cronin with a sense of the aloha spirit that he wants to share around the world. Over 7 million visitors arrive to Hawaii every year from across the globe to enjoy the magnificent beauty and culture it has to offer. Deep in cultural diversity, it embodies what Keith believes to be one of the most desirable places to live, not just for its weather, but for the people and the connectedness it fosters.
###