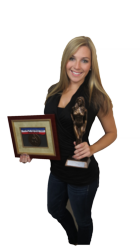 I believe in coconut oil, and I trust Kelapo.
Tampa, FL (PRWEB) April 10, 2013
Three minutes of stage time takes weeks of preparation. Kayla Jindra has been training for the upcoming Europa Games, Get Fit and Sports Expo in Orlando, Florida with the traditional methods of diet and exercise, but the 23-year-old says her secret weapon is Kelapo Coconut Oil.
"There's so much work and effort that goes into each fitness competition," Jindra explains, "you can't leave anything to chance. I believe in coconut oil, and I trust Kelapo." Jindra believes in the product so much, she started working for Kelapo last year to help spread her love of coconut oil! This is the second year Jindra will be hitting the stage for the competition held at the Orange County Convention Center April 19 and 20.
Several studies, including the well sited research conducted at the New York Obesity Research Center and published in the Journal of Nutrition1, found replacing long-chain fatty acids with medium-chain fatty acids, like those found in Kelapo Organic Coconut Oil, could aid in weight loss, a major focus in Jindra's training.
Jindra incorporated Kelapo into her diet in several ways. "In the morning, I'd use it in my oatmeal to jumpstart my metabolism. It would also give me enough energy before I'd hit the gym to finish my three to four hour workouts strong."
"The travel packs make it so easy to have the right amount of coconut oil on-the-go," Jindra explains. "I just put a few in my bag before I leave the house and I have it ready to mix in my smoothies, or as a quick pick-me-up."
Even post-workout, coconut oil was incorporated to help her muscle recovery. The medium chain triglycerides can be used to make up healthy, mass-building and fat-burning fats.
"But I just use coconut oil in my diet," Jindra adds. "I also used it after a tough workout to soothe my sore muscles!" She suggests mixing a tablespoon of coconut oil and peppermint oil into a hot bath to soak.
Learn more about Kelapo products and uses at the Europa Games, Get Fit and Sports Expo in Orlando, Florida April 19 – 20 at booth #113.
1 St-Onge, M.P., and Jones, P.J.H., 2002. Physiological effects of medium-chain triglycerides: potential agents in the prevention of obesity. Journal of Nutrition 132(3):329-332.
About Kelapo Extra Virgin Coconut Oil
Kelapo Extra Virgin Coconut Oil was created as a sustainable, healthy substitute for butter and margarine in cooking and baking. Our oil has a light, natural taste that adds enticing flavor to dishes, both savory and sweet; it can also be used in hundreds of applications from baby to beauty. Kelapo Extra Virgin Coconut Oil is organic, Fair Trade Certified and Vegetarian Approved. Our line of products consistently deliver high-quality organic coconut oil in multiple applications for use; available in 8oz, 14oz, 15oz and 29oz jars, as well as non-stick spray, pre-measured baking sticks, and vegetarian soft gels. Launched in 2009, Kelapo Extra Virgin Coconut Oil is headquartered in Tampa, FL. For more information please visit http://www.kelapo.com.
# # #