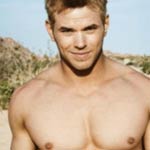 Kellan is a solid actor... but considering who he's up against and how close it is, the winner is going to be the one who wants the part enough to ask their fans to vote for them.
St. George, UT (PRWEB) January 04, 2012
Best known for playing Emmet Cullen in the Twilight Saga, which is now in post production, Kellan Lutz has been awarded the "Scene Stealer," twice winning that Teen Choice Award. Now he has the opportunity to take the lead role in the epic film The Runelords. However, he must win the heroic role in a vote against Zac Efron of High School Musical and Hayden Christensen of Star Wars, all nominated by the Runelords Movie Group, and led by producer David Farland. Fans can vote for Kellan Lutz at http://www.RunelordsMovie.com, in this first-time-ever way of picking the movie's stars.
This innovative approach to casting is the concept of David Farland, who is also the author of the Runelords series. Farland says, "In the past, producers haven't had a chance to get input from fans on major film roles, but with the rise of the internet, we feel that there is great value in hearing from the fans. We want our fans to recognize that they have a vested interest in this movie. Nowadays, in Hollywood the major factor in whether a film gets made, or if it gets made well, comes as the audience makes its voice heard. So we're giving the world's fantasy fans a chance to be heard. When you think about it, it makes good sense to give the parts to the actors people most want to see. Perhaps this is the wave of the future."
According to Farland, Kellan Lutz was originally chosen as a dark-horse; he wasn't expected to win the competition, but he is. "Kellan is a solid actor with a lot of appeal, and he's no doubt being helped by the recent popularity of the Twilight Saga," says Farland, "but considering who he's up against and how close it is, the winner is going to be the one who wants the part enough to tell their fans to go vote for them."
In fact, for the part of Iome, actresses have organized fan bases who have marshalled a hundred times as many votes as Kellan Lutz has. Any of the actors up for the part of Gaborn could outstrip their competition at this point with little effort. But the contest is just starting. "This is a new idea for actors," says Farland. "They're used to auditioning for parts, but not campaigning. They'll either catch on or lose."
In this big budget film, the part of Gaborn is endearing. He is an idealistic young man living an ideal life in a dark world until he starts to question the status quo, whether it is ethical to take away the strengths of others for your own whim. As his world is thrust into chaos, Gaborn struggles to live up to his own ideals and it gets him into an epic conflict that threatens the entire world. "It's a career-making role," says Farland, "Kellan Lutz is great for the part, but he and his fans are going to have to try hard if they're going to secure his victory."
Of course, the producers can't guarantee that the actors will get the role. After all, the choice will ultimately reside with the actor. Will it fit into his schedule? Is it the kind of role he'd want? "We're really hoping to fill these roles with major talent," Farland says, "and I believe that Kellan Lutz is one man that we'll want to talk to."
In addition to the Twilight Saga, Kellan Lutz is known for his roles in recent films such as A Warrior's Heart, Immortals, Guardians of Luna, and Arena. His past films include Love, Wedding, Marriage, A Nightmare on Elm Street, Meskada, The Forgotten Ones, Deep Winter, Prom Night, Ghosts of Goldfield, Accepted and Stick It. Vote for Kellan Lutz at http://runelordsmovie.com/community/polls/.
This article is courtesy of David Farland Enterprises. David Farland has worked in Hollywood as a film "green lighting" consultant, a producer, scriptwriter and has published over fifty novels including work with the Star Wars and Mummy franchises. His staff can be reached at http://www.davidfarland.com.
###