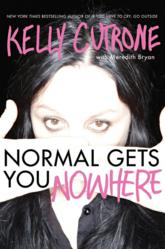 Cutrone works in an industry that is superficial and fickle, but she's the real deal. Her advice rings true no matter what field you're in. - The Associated Press
San Francisco, CA (PRWEB) April 27, 2011
When Kelly Cutrone's first book, If You Have to Cry, Go Outside, was initially published, young people flocked to this new voice—finally, someone was telling it like it is, in a language they spoke. It quickly became a New York Times bestseller and stayed on the list for eleven weeks. Fashion publicist Kelly Cutrone became more than a personality; she became a beloved guru, mentor, and fairy godmother.
In NORMAL GETS YOU NOWHERE (HarperOne; Hardcover; May 2011; ISBN 9780062059796; $23.99), Kelly Cutrone is back with another no-holds-barred book to awaken our souls and kick our asses into gear. History is full of successful, world-changing people who did not fit in. Think Nelson Mandela, Joan of Arc, Eleanor Roosevelt, Amelia Earhart, John Lennon, and Bono. Instead of changing themselves to accommodate the status quo, these people hung a light on their differences—and changed humanity in the process.
Kelly Cutrone has long been going against the grain. From her all black, no makeup trademark look despite her career in the image obsessed fashion industry, to her being living proof that you don't have to do things in a certain order to be successful, to her being a very happy working single mom, Kelly's success is a direct reflection of the NORMAL GETS YOU NOWHERE message.
This is not a quick fix book about how to nail that job interview or finding the man of your dreams. This book is about living a life that means something, how to take your idiosyncrasies and unique gifts and use them for good. Shake things up, turn the tables, tell the truth, and, most importantly, be you.
An invitation to rethink who you are, what you value, and what you want from life, NORMAL GETS YOU NOWHERE goes beyond how to reinvent yourself and create your own brand, and begins to investigate what it means to live in this world as a tuned in, conscious, and caring individual with a passion for making a difference.
About the Author:
Kelly Cutrone is the CEO and founder of People's Revolution, the national and New York Times best-selling author of If You Have to Cry, Go Outside, a television personality, and mother to eight-year-old Ava. Visit the author online at http://www.twitter.com/Peoplesrev
NORMAL GETS YOU NOWHERE
By Kelly Cutrone
HarperOne, an Imprint of HarperCollinsPublishers
May 2011 | $23.99 | Hardcover | ISBN: 978-0-06-205979-6
###