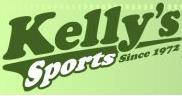 Where Future Stars Get Their Gear
Harrisburg, PA, (PRWEB) June 20, 2013
Kelly's Sports, a Pennsylvania sporting goods institution since 1972, was recently able to donate a total of $1,740 raised from a special T-shirt promotion to the One Fund Boston, which was established to provide financial support of the victims and families of the recent Boston Marathon tragedy. The family-owned business is a full-service retail sporting goods store and a Team Sports Dealer serving customers throughout Pennsylvania, New Jersey, Delaware, and Maryland.
"Our business was founded on the principle of community support, whether the community is here in Pennsylvania or further afield," said Kelly's Sports Ltd. President and Owner Steve Kelly. "When we learned of the senseless tragedy in Boston, we wanted to lend our support to show that we are all part of one big community here in the U.S."
The One Fund Boston was formed to assist victims and families affected by the tragic events at the Boston Marathon on April 15, 2013. The Fund has raised more than $45 million dollars with the financial support from thousands of individuals, foundations, corporations, and businesses like Kelly's Sports. Distribution will be made to victims and families on July 1, 2013 with 100 percent of the donations received prior to June 27, 2013 apportioned among victims and families through the Victim Relief Fund.
Recognized as one of the Top 10 Team Sports Dealers in the Nation, Kelly's Sports is known as a top supplier of team sporting gear for all sports. The sports equipment retailer has brick and mortar retail locations in West Chester PA, and Harrisburg, PA, with a comprehensive online retail website serving sports teams across the country, and custom online Team Stores. For more information, please visit http://www.kellyssports.com/feedback.htm.