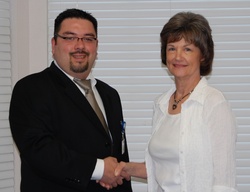 They've got a good reputation, and I liked the idea of staying in a network because they refer you to other physicians that they are familiar with
Houston, TX (PRWEB) July 29, 2009
KelseyCare Advantage, a Houston-based Medicare Advantage plan serving Medicare beneficiaries in the counties of Harris, Fort Bend, Montgomery, and Galveston on the Mainland, announced the enrollment of their 10,000th member, Margaret "Meggie" Stiles, 65 and a resident of Spring, Texas. KelseyCare Advantage is designed to offer Medicare-eligible individuals more healthcare coverage than traditional Medicare with fewer out-of-pocket costs.
Last year, the projected amount of people with Medicare was 44.8 million. As that number increases, so does enrollment in Medicare Advantage plans.
"I was overwhelmed by the complexity of it (Medicare), all the different options, and what you pay here and what you pay there. So, I just felt like that this was my best option after weighing the factors," said Meggie.
To help reduce out-of-pocket healthcare costs for members, KelseyCare Advantage plans have no copays for primary care physician visits, no deductibles and little or no premiums. Routine eye exams, hearing exams and hearing aids are also covered and members receive protection against the coverage gap of Medicare Part D by providing generic drug benefits through the gap. In addition, KelseyCare Advantage works with members who are at-risk for diseases (such as diabetes) to help improve their health conditions and control member out-of-pocket costs through disease management programs.
The cornerstone of KelseyCare Advantage is its renowned provider network, Kelsey-Seybold Clinic, which has been serving the Houston community's healthcare needs for more than 60 years. Members have access to more than 350 physicians with expertise in 40 medical specialties and sub-specialties, and there are 18 Kelsey-Seybold Clinic locations throughout the Houston area. Meggie's familiarity and experience with the Kelsey-Seybold Clinic brand was also a key factor in her decision to become a KelseyCare Advantage member.
"They've got a good reputation, and I liked the idea of staying in a network because they refer you to other physicians that they are familiar with," said Meggie. "And, the convenience of having the (Kelsey-Seybold Clinic) location in The Woodlands was a primary reason as well."
Gary Leal was the KelseyCare Advantage health plan representative who helped guide Meggie through all of the options available to her.
"He was very helpful, very friendly, and followed through on sending me literature or getting back with me on the phone," said Meggie. "After I submitted my application online, a few days later, he's the one who called me and told me I was the 10,000th new member."
Meggie works full-time at Bob Lanier & Associates in The Woodlands and spends most weekends traveling to the Austin, San Antonio or Dallas areas to visit family. In her free time, she enjoys reading and light gardening.
For more information about KelseyCare Advantage, please visit http://www.kelseycareadvantage.com or call 713-442-CARE (2273), toll free 1-800-663-7146, TTY/TDD 1-866-302-9336. To learn more about the Kelsey-Seybold Clinic and its physicians, please visit http://www.kelsey-seybold.com.
About KelseyCare Advantage:
Based in Houston, Texas, KelseyCare Advantage is a Medicare Advantage plan operated by KS Plan Administrators. The cornerstone of the KelseyCare Advantage provider network is Kelsey-Seybold Clinic. KelseyCare Advantage is available to Medicare beneficiaries who have Medicare Part A and Part B, who do not have End-Stage Renal Disease and live in the KelseyCare Advantage service area of Harris County, Fort Bend County, Montgomery County and Galveston on the Mainland. KelseyCare Advantage offers four plans, which include KelseyCare Advantage Essential, KelseyCare Advantage Rx, KelseyCare Advantage Essential + Choice and KelseyCare Advantage Rx + Choice.
About Kelsey-Seybold Clinic:
Kelsey-Seybold Clinic is Houston's premier community-based physician group, founded in 1949 by Dr. Mavis Kelsey in Houston's famous Texas Medical Center. Kelsey-Seybold offers the services of more than 350 physicians in over 40 medical specialties. The Clinic's 18 Houston-area locations offer convenience to patients close to home and work. Kelsey-Seybold has proudly served the National Aeronautics and Space Administration since 1966 and today provides medical services onsite at the Johnson Space Center, the White Sands Test Facility and in Moscow. Kelsey-Seybold Clinic is part of the St. Luke's Episcopal Health System.
Contact: Sarah Stubbs
Marion Montgomery, Inc.
(713) 523-7900
###